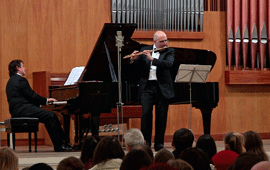 The 'Golden Flute' Tour Comes to an End in Chișinău
Monday, 19 November 2012 , ora 8.53

The second edition of the Golden Flute national tour (6th - 17th November, 2012) - organised by Radio Romania Culture, in partnership with Marconi Foundation and the Accendo Cultural Association - ended after 12 days and 7 concerts performed in Romania and Moldavia, in Chișinău, accompanied by the dynamic rounds of applause of the audience - charmed by the unbelievable sonority of the 'magic flute' - present in the beautiful pipe organ Hall,.
'Nothing can be more challenging, more ravishing and more powerful for a musician than a perfect organised tour and publicized with professionalism. A tour under the sign of 'gold', where a a real golden instrument has been accompanied by a 'golden pianist'- Horia Mihail. Thousands of kilometres in a Duster with our names on it, like the great rock bands, gave us an aura of stars, and the Romania we have seen, now seems to be more beautiful than the one we had imagined, with amazing landscapes and an ideal public, eager and admirer of beauty, like any musician would like to be. Now, I can surely say: 'I have also met happy Romanians !', Ion Bogdan Ștefănescu remarks at the end of the tour.
'It was an amazing musical journey where I felt fantastic alongside a great artist and friend, Ion Bogdan Ștefănescu. Every time, I feel really nice here, because the knowledgeable audience of Chișinău is a warm one. Every time I go up on this stage - the only stage that I have performed on since my debut in Chișinău until now I feel amazing. In my opinion, the last 2 months have comprised for me 31 concerts and 7800 km driven in my car around Romania and some of them in Moldavia.' Horia Mihail confesses after the last concert.
For the second time during the same year, two great musicians, Ion Bogdan Ștefănescu- the only artist in Romania with a golden flute of 18k, a creation of the Japanese company Muramatsu and the pianist - Horia Mihail, united by a beautiful friendship and a perfect communication on stage, proved once again their qualities in a charming programme with musical pieces by Bach, Mozart, Dvoűák or Poulenc, also performing works by Taktakishvili and Mower, who offered the audience a chance to see the protagonist artists in less known situations.
As the initiator and organizer of the project, Oltea Șerban-Pârâu, editor at Radio Romania Culture declared at the end of the tour: 'We are at the end of a seven month span of time after having organized no few than five national tours, the first and the last one being the two editions with the 'Golden Flute', among them The Travelling Piano, The Violin's Combat and George Enescu's Violin in the Villages being organised, experiences that had a lot of common features, but also a large amount of freshness and novelty. We also brought two of these tours to Moldavia and if Radio Romania Culture and the Accendo Cultural Association were a common factor of these projects, we were glad that there were more musicians beside me and the pianist Horia Mihail than last year, a lot of partners (to use a generic expression that unites the cultural and media partners, financiers and sponsors) and of course, a team who stayed off-stage all the time working with enthusiasm in order that this artistic and organizational effort should bring a numerous audience to the halls, both through television, internet or media.

Translated by Andreea Mesescu and Elena Daniela Radu
Bucharest University, MTTLC