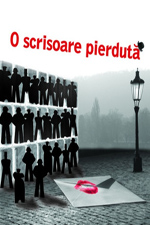 A Lost Letter - an Absolute Premiere at the Bucharest National Opera
Monday, 17 December 2012 , ora 9.02

A Lost Letter, an opera by Dan Dediu and written by Ion Luca Caragiale, had its absolute premiere at the Bucharest National Opera on Sunday, 16th December, 2012. The production was directed by Ștefan Neagrău and designed by Viorică Petrovici - with Tiberiu Soare behind the conductor's desk. That's what the musician declared:
"It rarely happens for a conductor to attend an absolute premiere of a play. While I was performing the 1st act with the orchestra, the soloists and the choir, Dan Dediu was still fixing the orchestration for the 2nd act. So, I was performing the 1st act and the 2nd was being set. We worked using the old tradition of producing an opera the same way Mozart was working with Da Ponte. Da Ponte was writing the libretto and Mozart was composing the music as he was receiving the lyrics, and then, right away their overall score was sent to be rehearsed with the conductor and the orchestra. That's what happened this time. In my musical opinion, the premiere was successful. The high standard of orchestral execution equaled that of the musicians; the choir was amazing- it had been prepared by the maestro Daniel Jinga, whose contribution was invaluable. Everything went very well, and what is important for a contemporary premiere, the musicians, the soloists and the orchestra liked working on it very much. They enjoyed performing Dan Dediu's work a lot, by."
Dan Dediu, the composer of the play A Lost Letter declared:
"I was gladly surprised with it and I can only thank those who helped me with this production - both the director and the librettist of the work, Ștefan Neagrău and Tiberiu Soare, who conducted it and managed to keep it under control, and those who started the project, the manager of the Bucharest National Opera, Mr. Cătălin Ionescu-Arbore and the artistic director, Mariana Colpoș. Actually, I sang for her a few parts of the play a few years ago, she enjoyed it and since then, everything has gone forward, so to say. My meeting with Neagrău and with Tibi Soare may have been interesting astral conjunction because everything went according to the plan, the interpreters and the orchestra were amazing. They performed with pleasure and you could notice this easily."
Ioana Marghita
Translated by Andreea Mesescu and Elena Daniela Radu
MTTLC, Bucharest University