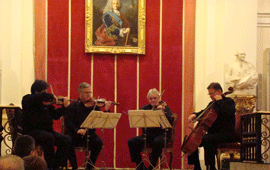 The Transylvanian Quartet's Concert in Madrid
Wednesday, 5 December 2012 , ora 9.23

Wednesday, 28
th
November, 2012, a recital by the
Transylvanian Quartet
was held in Madrid. Organized by the Romanian Cultural Institute to celebrate our National Day and holding the high patronage of the Romanian Embassy in Spain, the concert was held in the concert hall of the
San Fernando Royal Academy of Fine Arts
, in the very historical centre of the metropolis. The evening began with a series of speeches meant to stress the importance of this celebratory occasion, given by representatives of the Embassy and of the Ministry of Culture.
The musicians of the Transylvanian Quartet are: violinists Gabriel Croitoru and Nicușor Silaghi, violist Marius Suărășan and cellist Vasile Jucan - proposed an evening rich in famous musical pieces, some belonging to the repertoire of individual authors, some to Romanian folklore. In order to highlight the Romanian themed nature of the evening, the recital opened with Ciprian Porumbescu's Ballad which needs no further presentation. It was followed by Wolfgang Amadeus Mozart's Divertimento (part III K.V. 137 and K.V. 126), Jules Massenet's Meditation from the opera Thais and Salut d'amour by Edward Elgar. What is particularly noteworthy is that a great deal of the evening's repertoire was composed of arrangements of compositions not written for chamber music, the central part of the arrangements being the first violin. Thusly, Gabriel Croitoru had the opportunity to showcase his subtlety in playing pieces such as Liebesleid by Fritz Kreisler or Humoresca op. 101 no. 7 by Antonin Dvoűák. The first half of the evening also contained movie soundtracks, such as music from Schindler's List by John Williams and Por una Cabeza by Carlos Gardel, a famous tango featured in many movies, one of which being Scent of a Woman.
The second part of the recital was made up of only Romanian folklore creations. Nicușor Silaghi, carrying the role of the fiddler, was joined by his colleagues in playing two musical pieces from the Transylvanian and Wallachian folklore. The moment was by far outstanding, with the artists receiving a standing ovation.
The evening ended with a sort of preview of concerts to come in the following weeks, as Romanian carols were played. They were a proper finishing touch to a special event and a lovely Wednesday evening. It is very possible the sound of the Transylvanian Quartet playing followed the audience through a city that nowadays is engulfed in both protests and holiday preparations.
Radu Mihalache
Translated by Andrei Mihaela-Cristina and Elena Daniela Radu
MTTLC, University of Bucharest