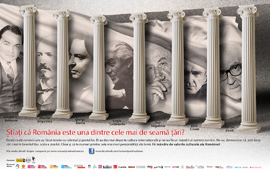 The 'Romanians for a World' Campaign Has Been Launched!
Monday, 17 December 2012 , ora 9.59

The 'Sergiu Celibidache' Foundation has initiated 'Romanians for a World', a social responsibility campaign which is aimed at the Romanian people and promotes national values, thus encouraging the young generation to follow their dreams, regardless of the cultural field they work in.
The 'Romanians for a World' Campaign represents a tribute to the great Romanian personalities who have brought pride and glory to our country throughout the world, and it brings into focus our fellow countrymen who remain immortal through their achievements.
We aim at reinstating forgotten Romanian values in order to motivate and inspire present and future generations to gain a sense of national pride.
By evoking historical figures and promoting contemporary ones, by offering the young generation the chance to assert themselves and make their dreams come true, we make them trust that Romania is their home.

The 'Romanians for a World' Campaign unfolds in three stages:
During the first stage, which will take place between 17th December, 2012 and March 2013, we shall rediscover together the great Romanian figures who have undoubtedly contributed to worldwide culture: Mircea Eliade, Emil Cioran, Nicolae Grigorescu, George Enescu, Edward G. Robinson, Jean Negulesco, and Sergiu Celibidache.
During the second stage of our campaign, which will take place between March and June 2013, we will support contemporary cultural figures whose names are well-known across Romanian borders. Among those who have joined us for the second stage of our campaign we mention the following: Marcel Iureș, Alex Rotaru, Alexandra Nechita, Dorotheea Petre,Vladimir Cosma, Ada Condeescu, and others.
The third and last stage of the 'Romanians for a World' Campaign, which takes place between June and November 2013, distinguishes itself by organising an online national competition (both on www.romanipentruolume.ro and on our Facebook page), which is meant as a tribute to culture in general or to a certain cultural personality. People from different cultural fields will be able to enter the competition in order to present a painting, a piece of music, a sculpture, or a poem. Following a vote by specialists and one by sponsors, the selected competitors will enter the final, where they will be judged by a jury made up of specialists as well as by the audience. The winners will receive scholarships in Romania and abroad.
The campaign is taking place online, at www.romanipentruolume.ro, as well as on our Facebook page, where you can find out further details about this new cultural project of the 'Sergiu Celibidache' Foundation.

Translated by Cristina Firoiu and Elena Daniela Radu
MTTLC graduates, Bucharest University