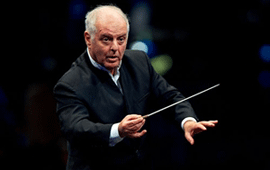 Daniel Barenboim at the Age of 70 - Press Report from La Scala of Milan
Thursday, 15 November 2012 , ora 10.05

Concertos for piano and orchestra, a first audition for the American composer, Elliot Carter, a series of conducted programmes with La Scala Philarmonic, Berlin Staatskapelle and Vienna Philarmonic ─ Daniel Barenboim celebrates his birthday. He is the complete performer and a valuable virtuoso.
At his 70thanniversary he is a redoubtable, charismatic and fascinating piano player. He is also a gifted conductor endowed with force and imagination and above all with a liberal and humanist thinking, a mind open to contemporary problems and changes. Therefore, anticipating this anniversary on 15thNovember, 2012, and being accompanied by older or younger friends, Daniel Barenboim performed a series of piano and orchestra concerts on the stage of La Scala of Milan. He has been its musicdirector since 2011.
At the end of October Brahms and Bartok were conducted by Gustavo Dudamel, as well as Dialogues IIfor piano and chamber orchestra, a piece written for Daniel Barenboim's 70thbirthday by the American centenary composer, Elliott Carter. There followed Chopin's Concerto No.1, with Claudio Abbado, and finally Beethoven's Concerto No.3and Tchaikovsky, conducted by Daniel Harding.
I watched him in the latter part of this programme, proving he had a young artistic and open-minded spirit, flexible among varied styles, as if all brought to the sublime. Barenboim was a romantic piano player and not only because he had chosen Tchaikovsky, but also because he performed Beethoven's Concerto. The latter was at a moderate tempo without emphasis, with accents and spontaneous sentimental gusts, as resonance of an inner purity, with unostentatious subtleties, with grace and naturalness and a resonance of the sound found only in vocal music. I have noticed the same recent vision in Tchaikovsky's Concerto, too, with a juvenile flexibility and moments full of ardent passion and cantilena that move you, full of romance and emotion like the young spirit of its own creator. Neither brilliance nor optimism were missing from this multitude of senses and feelings we experienced through music and in fact we were taken to by one of its most notable representatives. And another reward for the enthusiasm of the Milanese audience, offered by Daniel Barenboim, as his encore from Chopin's work : the Nocturne, the Minute Waltz andthe Polonaise in A-flat major Op.53(Heroic Polonaise), a different world of intense artistic expressions and impressions that were as captivating .
Ruxandra Arzoiu
Translated by Voicu Diana and Elena Daniela Radu
MTTLC , Bucharest University