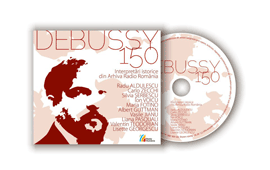 New Release of the Radio House - 'DEBUSSY 150. Historical Interpretations from the Romanian Radio Archives'
Monday, 17 December 2012 , ora 8.54

The event-album which was recorded and released by
The Radio House
at the end of Claude Debussy's anniversary year contains a series of representative musical compositions based on the recordings released by the Romanian Radio Broadcasting Company.
The chamber opuses - now on CD - of the great composer whose 150th birthday was celebrated in 2012 by UNESCO - are remarkably rendered for the first time in this formula by our internationally known artists. The sonatas for violin and piano performed by the violinist Ion Voicu, the cellist Radu Aldulescu, the flautist Vasile Jianu, the pianists Maria Fotino, Carlo Zecchi, Silvia Șerbescu, Albert Guttman along with the exquisite voice of Valentin Teodorian ( accompanied by the pianist Lisette Georgescu - a rare formula as well) are meant to bewitch every listener.
"DEBUSSY 150. Historical interpretations from the Romanian Radio Archives" anniversary album of The Radio House aims to fathom the work of the composer along with the rediscovery of such exceptional soloists brought into light thanks to the new interest in the radio recordings of the '60s and '70s.
"The world of Debussy's harmonies took a new shape, away from the classic resources, so to become a totally unique one through the interwoven possibilities of the Far East music: the numerous tones, the pentatonic scale or through the French music tradition: the modalism. His instrumental mixtures are subtle, transparent, meticulously rendered; his melody becomes one with the surroundings, the musical hues are vital, it evokes rather than vouches for.
The performing of Claude Debussy's music entails the cognizance of a different style than the German one - that tends to be more popular among performers; this intricate style implies a high standard of culture and sensitivity, elegance and refinement", claims the renowned musicologist and broadcaster of Radio Romania Music Olga Grigorescu, in the brochure of the CD.
"The ambiguity, the irrational, the mystery and bliss" that characterizes this "music of the expression and colours" which is formulated by the "historical renderings" will capture everyone's attention.
"Debussy 150" is released at Humanitas Kretzulescu Bookshop at 18.00 on Thursday, 20th December, 2012.
Guests: Madeleine Voicu, Grigore Constantinescu, Liana Șerbescu, Olga Grigorescu. Moderator: Tiberiu Comandașu, music editor The Radio House.

Translated by Sorina Cimpoeru and Elena Daniela Radu
MTTLC, Bucharest University