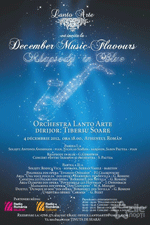 December Music Flavours - Jazz Edition
Wednesday, 5 December 2012 , ora 7.58

This year's fifth edition of the
December Music Flavours
Concert
was centred on jazz music. On 4
th
December, The Romanian Athenaeum hosted the first public appearance of the Lanto Arte Orchestra, which is formed of young musicians performing under the guidance of conductor Tiberiu Soare. Their aim of performing at the highest level of artistic excellence was proven from the first chords of the concert: pitch accuracy, rhythmic synchronization and love of music were just some of the qualities displayed by the young ensemble. In addition to jazz inspired pieces, the evening's programme included selections from known lyrical pieces, thus giving a festive air to the event.
Two young soloists, the soprano Rodica Vică and the baritone Șerban Vasile performed selections from pieces such as Pyotr Ilyich Tchaikovsky's Eugene Oneghin, Gioachino Rossini's The Barber of Seville and Wolfgang Amadeus Mozart's Don Giovanni. The audience greeted the two famous musicians performing that evening - saxophone player Nicolas Simion and Greek pianist Antonis Anissegos - with enthusiastic applause. Antonis Anissegos offered an expressive performance of George Gershwin's famous Rhapsody in Blue, which can be considered a true representation of American culture transposed into musical notes, and his jazz infused music was complemented by the ironic effects of the wah-wah trumpets.
The Concert for Saxophone and Orchestra by Sabin Păutza, which actually featured the author himself during the piano solo in the second movement, had Nicolas Simion leading the audience on a musical journey through time and space, starting from a theme inspired by Romanian folklore, which was arranged on a jazz harmony and moving on to rhythms reminiscent of jazz and heavily influenced by South American music and finally ending with an American Charleston.
Here are Nicolas Simion's thoughts on this musical piece: "It's quite a beautiful one; it was written about 15-20 years ago, back when the maestro was still in America, in New Jersey and it is one of the very few concerts for saxophone and orchestra that balances the soloist's part, the orchestra and the musical arrangement very well. The music flows naturally, creating a certain degree of intimacy with the audience, engulfing them in the performance. It's really good music, it's a pleasure for me to play it."
What would be the word that best defines the first concert of the Lanto Arte Orchestra? A success!
Alexandra Cebuc
Translated by Andrei Mihaela-Cristinaand Elena Daniela Radu
MTTLC, BucharestUniversity