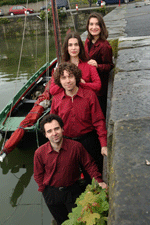 The 1st of December as it Was Celebrated in Italy - A Report from Rome
Monday, 3 December 2012 , ora 8.05

Romania's National Day was celebrated by the
Accademia di Romania
in Rome with a concert held by the Con Tempo Quartet from Ireland.
Adrian Mantu, cello: There has been a strong bond between us and Rome ever since from 1995, when we formed the quartet; it was here, in Rome, that we held our first international concert. Back then we won a string quartet competition in Rome called 'Valentino Bucchi International String Quartet Composition Competition' and, of course, we were invited by the Academy to perform for them. Ever since then, for almost 17 years, we have been going on tours to Rome and, naturally, we always hold a concert for the Academy. Therefore, we could say that we have a strong relationship with them and that this place feels like home for us.

What does the 1st of December mean to you, especially since you left the country many years ago?
It's a day to remember our homes, our country and the friends we left back there. We left the country 20 years ago, we studied in London, we were a quartet-in-residence at the Royal Academy of Music, then we went to Madrid, at the Escuela Superior de Musica Reina Sofia and for the last 17 years we have been a resident quartet in Italy, Germany, France and, for the last nine years, we have been a quartet-in-residence, a state quartet on the Western coast of Ireland; like any other Romanian who left the country so long ago, we feel the need to get together with other Romanians at least once a year and celebrate this day.

Which do you believe is the most welcoming audience?
It's hard to say, since each country's audience is different, and that is only natural, isn't it? When one plays in Japan, for instance, the room is completely silent, as if no one dares breathe; although they feel very strongly about the performance, they do not let it show; they are an extraordinary audience, but you find this out only after the concert. So you can't really form an opinion. Surely, Spain has the loudest audience, but of course we are very much at ease in Ireland, since it has been our home for the last nine years and we now have our own audience there who makes us feel comfortable and vice versa; so I have to say the Irish audience is the most welcoming, followed by the one in England.

Another event celebrating Romania's National Day was the Christmas carol concert organized by the 'Pio Romeno' Romanian Pontifical College in Vatican. The college's rector, father Gabriel Buhoi:
'On the one hand, carols are an occasion to praise the Lord for everything He has done for us; and on the other hand, prepare ourselves for a special eventand mystery that we Romanians love to embellish, to enrich with the tradition of carolling, because we find something of ourselves in them, because they reflect our traditions and our souls and they represent an opportunity to create a connection between us and God; I believe it is a perfect occasion to hold this concert at the beginning of December, since we are also celebrating our National Day and since Romanians have a highly religious spirit and are always open to receiving God and to preparing for the upcoming holiday.
Carols always render a genuine Christian message and represent an opportunity to enjoy the few days left until Christmas and get into the Holiday spirit.'
Elena Postelnicu – Radio Romania correspondent in Rome
Translated by Andrei Mihaela-Cristina, Mădălina-Elena Marin and Elena Daniela Radu
MTTLC, Bucharest University