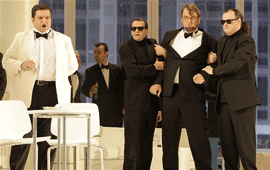 'The House of the Dead' by Janáèek at Staatsoper in Vienna
Wednesday, 4 January 2012 , ora 11.51

The last work for stage written by the Moravian composer Leo¹ Janáèek in 1928, his death year, is the opera 'The House of the Dead', after the story with the same name by Fyodor Dostoyevsky. The premiere of a new staging took place at the Vienna State Opera on December 11th, 2010, under the direction of the German Peter Konwitschny.
I am telling you about this mainly because in the cast there are three artists born in these parts: Sorin Coliban (Alexander Petrowitsch Gorjantschikov), Alexandru Moisiuc (the Commander) and Gergely Németi (Aljeja). The central figure of the opera is Gorjantschikov, played by Coliban. The part does not have many sung passages, but it requires of the artist a continuous stage presence as he is permanently under the limelight. The vocal interventions were approached without difficulty by Sorin Coliban. At the same time, Alexandru Moisiuc appears, for instance, in the final stage as the commander of the prison camp - a figure which draws attention and matches the physique (and voice) of the bass born in Bucharest, collaborator of the Vienna State Opera since 1994.
A metaphor for the deprivation of liberty
The prison camp in Siberia is changed under the staging of Konwitschny to a loft populated with mafia clans. What brings the two 'worlds' together (prison and mafia) is the deprivation of liberty, the despair, the brutality and the fear. For director Peter Konwitschny, theatre is alive when it takes liberties in performing the opera. The House of the Dead is therefore a metaphor for the deprivation of liberty, of the inferno reigning not only in the prison camp Dostoyevsky described, by also in today's world. The actors leave the stage, perform backstage and amidst the audience. The reference is clear: existences are destroyed and souls are tortured not only on stage; executioners and prisoners are among us, as well.
Beside the scenario, the beauty of the opera is revealed by its music. The orchestral commentary is overwhelming, Janáèek insisting on the extreme registers of the instruments, on the pitches of the strings, on piercing sounds. The conductor Franz Welser Möst reproduced the original score signed by Leo¹ Janáèek, and not the one completed by the students of the composer, after his death; the empty, intense, drained sounds linger on.
In a word: I watched an opera I would not recommend to minors. The questions it poses - harshly - are addressed to those old enough to understand them.
Haiganuº Preda-Schimek
Translated by Silviu Dãnilã and Elena Daniela Radu
MTTLC, Bucharest University