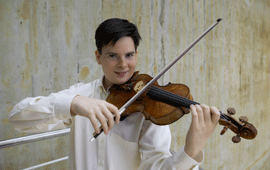 The Tuesday Evening Season at the Athenaeum
Wednesday, 11 January 2012 , ora 10.26

The first concert of 2012 proposed by the Tuesday Evening Season, held in the Small Hall of the Romanian Athenaeum, offered the public the chance to meet Ștefan Tarara, a young German violinist of Romanian origin. His impressive visiting card recommends this concert as an exceptional event. The public in Bucharest has conformed to it therefore the Small Hall of the Athenaeum was full to the brim.

An early showed talent
Ștefan Tarara became known due to his early talent; when he was only 10 years old, he began as a soloist in the Wieniawski Concerto No. 2 and since then he has appeared in this capacity with major orchestras from Germany and from other countries including Romania. He currently studies with the well-known violinist Zakhar Bron at the Conservatory of Manheim, and the international awards constantly add over time.

A programme with the most difficult works for violin
The recital of Tuesday, January 10th, focused on some of the most difficult works from the whole literature of the violin: Ciaccona by Bach, Sonata no. 2 by George Enescu, the piece Moonlight by Claude Debussy, and the rhapsody Tzigane by Maurice Ravel. In addition to the initially announced programme, Stefan Tarara also offered the public Bela Bartok's Ciaccona - a piece that can be successfully performed by few violinists.
The entire recital was a demonstration of virtuosity, with many outstanding moments that won the public. We also noticed the efficient contribution of the pianist Verona Maier.
On Tuesday evening, Ștefan Tarara confirmed his impressive visiting card; he is a violinist who exudes a special force while his self-confidence on the stage demonstrates an unrivaled experience at the age of 25.

Dan Ghineraru
Translated by Gabriela Moateru and Elena Daniela Radu
MTTLC, Bucharest University