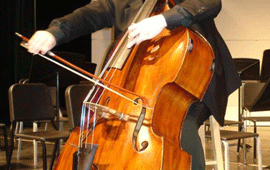 Tuesday Night Season at the Romanian Athenaeum
Wednesday, 18 January 2012 , ora 10.19

The second concert of the year, included in the Tuesday Night Season organized by the 'George Enescu' Philharmonic in the Small hall of the Romanian Athenaeum, had as protagonist young contrabass player Szasz Magor-third year student in professor Ștefan Thomasz's class at the National University of Music in Bucharest.
Szasz Magoris already an artist known to the public in Bucharest and throughout the country, with a quite rich concertagenda, remarkable considering the scarce number of apparitions of this instrument in the foreground on our stages.

Good interpretative technique, enjoyable sound

Tuesday, January 17th, 2012, he presented a few aspects of his interpretative possibilities. In the first two pieces -Divertimento in D major by Joseph Haydn and Arpeggione Sonata by Franz Schubert - he was accompanied by pianist Viorica Boerescu, a close and appreciated collaborator of the contrabass class at the Bucharest University. His interpretative technique as well as the enjoyable sound, hard to obtain with this instrument, made these two creations a very successful part of Tuesday's recital. Two opuses followed, where Szasz Magorwas accompanied by guitarist Mihaela Iordache - the habanera-shaped piece by Maurice Ravel and the famous Variations on the G String byNicolo Paganini - both interpreted at the same good technical level. There were still small desynchronizations, probably due to the novelty of this duo formula.

Szasz Magorin a different interpretative view

At the end, contrabass interpreter Szasz Magor played alongside his colleagues Răzvan Popescu, Andrei Nițică and Victor Savcain a contrabass quartet. In this already well consolidated formula they played transcriptions after two appreciated creations - Adagio by Tomaso Albinoni and Passione amorosa by Giovanni Bottesini.
That is how this true performance benefitting from a large audience ended.

Dan Ghineraru
Translated by Alexandra Ilie and Elena Daniela Radu
MTTLC, Bucharest University