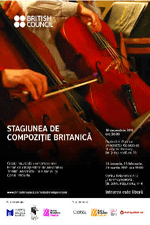 Contrasts
Friday, 27 January 2012 , ora 10.05

We had a pleasant surprise on Thursday, 26 January 2012, when in the hall of the National Culture Centre 'Romanian Youth,' we saw the numerous audience enjoying the contemporary music concert included in the season organized by the British Council in Bucharest. Certainly the room was not full, but considering the weather outside, I confess I didn't expect many people to be present at the event.
The quality of the concert paid off the efforts of those who attended, because the pianist Adriana Maier, the violinist Diana Moș, the violinist Marian Movileanu, the clarinetist Emil Vișenescu and the cellist Eugen Popa, united in the Ensemble 'Profil,' coordinated by Dan Dediu, PhD. Professor, gave out a convincing performance of the opuses created by contemporary British composers, two of whom were in the hall room.

Works by Gary Carpenter and Philip Cashian
Gary Carpenter's Trio proved an extremely poetical one that we enjoyed even more considering we had the chance of an insight into the performance given by the author himself. While the first part pushed us towards reverie, in the second part we were confronted with a rough, harsh melodic thread, having the same effect that, in painting, a direct, crude light would have upon the painted object.
Philip Cashian presented us his composition - Devil's box, for clarinet, violin and piano, with rapidly succeeding contrasts, illustrating a certain tension, a certain anxiety, announced by the title of the play.

An initiative suitable to a European capital
The audience applauded this event and the British Council's initiative, seconded by Radio România Muzical, the Bucharest National Music University, the 'George Enescu' National Museum and the "Romanian Youth" National Centre proves suitable for a European capital, where there is preoccupation for the latest artistic tendencies.
The next event included in the British composition season takes place on 23 February.

Petra Gherasim
Translated by Silviu Dănilă
MTTLC, Bucharest University