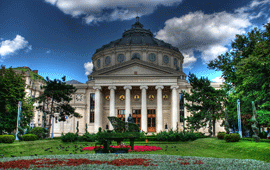 The Tuesday Night Session at the Romanian Athenaeum
Wednesday, 25 January 2012 , ora 14.35

As usual, the The Tuesday Night Session at the 'George Enescu' Philharmonic has brought young talents of our performing arts on the stage of the Small Hall of the Romanian Athenaeum and so it did on January 24th.
We attended a recital performed by the violonist Georgeta Elena Iordache - an eleventh grade student taught by Elena Baltagă at the 'George Enescu' Musical Highschool in Bucharest. A young lady of 16 who has up until now obtained over 50 prizes at performing competitions and has been a constant winner of the National Olympics for the last few years.

There was room for improvement
A recurrent feature of the recital was noted from the very first piece - Impromptu concertant by George Enescu - performed together with pianist Olga Babadjan: a warm, distinctive qulity of sound, produced with the help of the fairly unpretentious violin that she currently owns. The performances of the pieces by Ludwig Spohr and Henryk Wieniawski or that of the famous piece Introduction and Rondo Capriccioso by Camille Saint-Saëns, rendered in the same fashion, were also fairly accomplished. However, the two solo pieces in the programme - Lăutarul from the suite Impresii din copilărie by George Enescu and Nicolo Paganini's Caprice no. 24 indicated insufficient technical preparation.

A mature and profound appearence
The recital on January 24th brought the surprise of Daria Ioana Tudor's appearence at the piano performing Paul Constantinescu's Sonatina and offering the audience an encore of the Meditation from Jules Massenet's opera 'Thaïs'. Although only 14, Daria Ioana Tudor has obtained prizes at prestigious competitions, has been a soloist in orchestras around the county as well as in the Radio Chamber Orchestra. Despite its brevity, her appearence confirmed the maturity, profoundness and remarcable technical abilities that have long been noticed by both Romanian and foreign masters.

Dan Ghineraru
Translated by Roxana-Andreea Dragu
MTTLC, Bucharest University