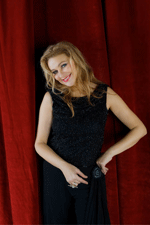 Mezzo-Soprano Ruxandra Donose, once again on the Stage of the Radio Concert Hall
Monday, 30 January 2012 , ora 9.09

On 27 January 2012, opera lovers had the opportunity to spend a few hours in the bohemian world of the 19
th
century.
'Werther'
by Jules Massenet was the event that brought Ruxandra Donose - one of the most important Romanian voices of the opera stages of the world - back to the audience, on the stage of the 'Mihail Jora' Hall, at the Radio Romania headquarters.
Staged as a version of opera in concert, the cast was an impressive one, with soprano Irina Iordachescu, baritone Ionut Pascu, and the title role was interpreted by tenor Hector Lopez - a Werther both temperamental and sensitive, torn apart by suffering, but always dignified. We asked the mezzo-soprano Ruxandra Donose to talk about her character, Charlotte, and to reveal how she came to perform it as she did.
Ruxandra Donose: I find it quite easy to follow written text as well as musical one. This role was created in a crescendo of internal intensity: in the beginning, Charlotte is more reserved, she hides her emotions, contains them and, as the action progresses, we continuously find what turmoil is hidden in her soul, up until the final explosion in the last act, when Werther dies and Charlotte has no longer the power to hide her love from him.
Musical night ended in thunderous applauses
The contrasts between the late-Romantic melody - sometimes melancholic, other times revealing a heart breaking drama - and the colourful orchestration in which the harp re-establishes calm, and the flute-cello duets embodies the two lovers, Charlotte and Werther, were underlined by conductor Tiberiu Soare through absolute but never heavy-handed gestures, through tempos and nuances, always adequate to the flow of the music. And in terms of the different voices that made up the event, I must point out the contrasting effect that the Children's Radio Choir created in the final act of the performance. Against the sombre orchestral background, the children's voices were like bells that announced the arrival of Christmas.
The never-ending applauses that concluded the musical night made me ask mezzo-soprano Ruxandra Donose if there is a recipe of success in the world of music.
Ruxandra Donose: I do not know if there is a recipe for success, but for me it is complete dedication, the artist's sincerity towards the music, towards the role he is performing and towards the audience - a dedication and a commitment to this music.
Alexandra Cebuc
Translated by Florina Sămulescu
MTTLC, Bucharest University