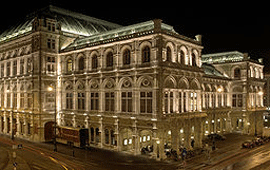 Kurt Weill and Bertold Brecht at Vienna State Opera
Wednesday, 1 February 2012 , ora 10.37

The premiere of the opera
Rise and Fall of the City of Mahagonny
by Kurt Weill and Bertold Brecht has been without any doubt the most important event that the Vienna State Opera has hosted since the beginning of 2012. This is the first staging of the work at the Vienna State Opera, although more than eight decades have passed since the opera's world premiere
in 1930
.

Negative reactions to the production
The opera was directed by Jérôme Deschamps and conducted by Ingo Metzmacher. The leading female roles were entrusted toAngelika Kirchschlagerand Elisabeth Kulman and the leading male roles to Tomasz Konieczny and Christopher Ventris. The cast also included Ileana Tonca, Ildiko Raimondi and Valentina Naforniþã. Altogether, the singers' performance drew rapturousapplause, whereas the production received negative reactions from some of the spectators. The costumes (Vanessa Sannino) and the set design (Olivia Fercioni) were inspired by the abstract, peculiar and ironic elements of the story written by Weill and Brecht, highlighting its grotesque, but otherwise sad nature.

Weil's opera, a sharp criticism of capitalism
In Mahagonny, an imaginary American town placed in the '20s, everything has a price and everything can be bought. The town survives the threat of a hurricane, but falls into decay because of the people's greed and vices and their irrational laws. Money rules over everything, including justice, which turns Mahagonny intoa symbol of the ever growing capitalism.
In the presentation Kurt Weill's opera was described as a contemporary parable, a sharp criticism of capitalism and social inequality worsened by crisis, much like the financial and global crisis that we are facing today. Probably many spectators read between the lines that the opera was going to hint at the vices people nowadays indulge themselves in and watched the actors display behaviours which were typical of the consumer society: gluttony, lack of self-discipline, shame and principles.

... another simplistic script of an apocalyptic film
In the end, Mahagony lies in ruins, like in a gloomy, bizarre, motley, crooked painting. The score combines cabaret, music-hall and jazz songs with opera works and was written in such a way to avoid the bel canto singing. The plot unfolds swiftly, without delays. Weill' blend of arias and songs suggests his dramatic sensibility. However, the story does not stand out, the characters are not individualised enough, the line between good and bad, white and black is too thick and the morale is too obvious. Despite the sophisticated, inter war setting, the story is similar to the simplistic scripts of the apocalyptic films that have taken over the big and small screens in the past few years.
Haiganuº Preda Schimek
Translated by Raluca Mizdrea and Stela Cucu
MTTLC, Bucharest University