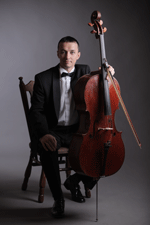 Do you like Bach?
Thursday, 9 February 2012 , ora 9.55

The national tour Vă place BACH? brings to Romania three premieres in the area of classical music: the first performance of a Romanian artist in one concert, of the integral suites for cello by Bach, the first solo tour presented by the young musician Răzvan Suma and a multimedia show of projections on translucent panels.
The event will take place between 1st and 21st March 2012, in eight Romanian cities, as follows: Brașov (1st March - The Military Circle), Arcuș (7th March - The Arcuș Cultural Center), Bistrița (11th March - The Synagogue), Baia Mare (13th March - The Rotary Hall of the Art Highschool), Pitești (15th March - The Cultural House of Trade Unions), Bacău (17th March - The Atheneum), Dumbrăveni (19th March - The Unesco Cultural Center). The tour will end in Bucharest with an amazing concert at The Radio Hall on 21st March.
Facts about the young Romanian musician
Răzvan Suma is one of the most active and important young Romanian instrumentalists, with a vast repertoire, made in his over five hundred recitals and concerts performed around the world. Beside concerts he helds in Romania, he frequently performs together with the Spanish pianist Josu Okinena in halls like Auditorio Nacional de Madrid, Teatro Colon in Buenos Aires, Kursal in San Sebastian.
Since 2006 Răzvan Suma has gone on six tours in a Trio formula- Romanian Piano Trio or Trio Strad - together with Alexandru Tomescu, Horia Mihail, Toma Popovici. Răzvan Suma is also present on stages in Italy, Portugal, Macau or Morocco alongside Marin Cazacu, Alexandra Guțu and Octavian Lup, and the "Cellisimo" cellos quartet, In 2009 he became soloist of the Romanian Radio band. As a partner professor of The National University of Music Bucharest, he has an intense pedagogic activity and is invited to teach classes organised in countries such as Spain, Argentina, Korea and Romania, during the workshops organised by the SONORO Organization.
The instrument Răzvan Suma now plays was designed by the fiddle maker Charles Adolphe Maucotel - one of the most appreciated instrument maker of his time - and was made in Paris, in 1849. During the 20th century this instrument belonged to the famous French cellist Pierre Fournier. The Maucotel - Fournier cello was offered to Răzvan Suma in 2009 by Musicha in San Sebastian, Spain.
A complete event of music and visual art
The concerts in the national tour Vă place BACH? are a sensational demonstration of technical virtuosity and artistic sensitivity, in a display of music and visual art, whose length go well past ninety minutes.
The tickets are available at the concert halls in the country, and in Bucharest at the box office of Radio Hall and on www.eventim.ro.

Translated by Elena Enache and Mihaela Melneciuc
MTTLC, University of Bucharest