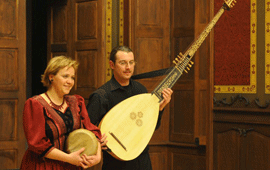 Tuesday evening season
Wednesday, 15 February 2012 , ora 12.49

The Tuesday evening season
of the George Enescu Philharmonic has resumed its normal course in the small Hall of the Romanian Athenaeum, after the cancellation of last week's concert due to problems caused by atmospheric conditions.

16thCentury Italian Music
We attended on Tuesday, 14th February 2012, a new and unprecedented event set in this series of concerts - one that offered the audience a programme fully dedicated to 16thcentury Italian music. The stage was taken by two talented musicians, specialized in the early music repertoire - the Hungarian soprano Judit Andreisky and the Romanian lutenist Caius Hera.
Judit Andreisky is a well-known name in this music area, holding a record concerning the collaborations with numerous old music ensembles from Hungary and from other European countries as well. The same passion is shared by Caius Hera - one of the few Romanian musicians to explore this repertoire, an artist who also owns an impressive collection of string instruments of the period, custom-made in the same way they were made hundreds of years ago. Part of his instruments - the vihuela, the Renaissance lute and the baroque guitar could be heard and seen in the recital from Tuesday evening.

Well-adapted presentation to the style
The dances or the suites written, among others, by Filippo Azzaiolo, Cesare Negri, Baldasare Donato, Giovanni Gastoldi and Giovanni Pierluigi da Palestrina - were presented by the two musicians in a well-adapted manner to the style, highlighting the musicality of these Italian works, and the short presentations between the plays and the alternation of instruments managed to avoid the slight monotony this special type of music creates in the concert.
Dan Ghineraru
Translated by Dobrin Irina
MTTLC, Bucharest University