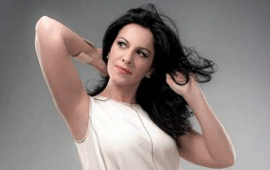 Angela Gheorghiu Opens the Vienna Opera Ball
Friday, 17 February 2012 , ora 10.33

Once a year the interior of the
Vienna State Opera
turns into a large ball room, duringthe traditional ball that has been organised regularly since the 1930s on the last Thursday before Lent. This year, the highlight at the opening of the ball was achieved with the contribution of soprano Angela Gheorghiu, who sang
Habanera
from Bizet's
Carmen
and
I Could Have Danced All Night
from Loewe and Lerner's operetta
My Fair Lady
. She was accompanied by the Vienna State Opera, formed of, as we know, the members of the Vienna Philharmonic, conducted by George Prêtre.

Winning over the world on the strength of her talent
We watchedAngela Gheorghiu both at the general rehearsal on Wednesday, and during the broadcast on the Austrian channel ORF, performing her two solo moments when she shined, charmed us and had the ball room resound with the range of her voice. Wearing a glittering black train dress, dotted with big poppy flowers, the soprano was dubbed Romania's Anna Netrebkoby the commentator of the broadcast. The 15thFebruary issue of the Wiener Zeitungnewspaper devoted a feature to Angela, in which she is described as a 'superstar', a 'diva' of the present - and it is stated that she can be rarely seen on stage but also that she has the reputation of a 'difficult singer'.
Angela Gheorghiu's international career began in 1990, with a spectacular appearance at the Covent Garden in London. In Vienna she made her debut in 1992. Thursday's event will remain, without a doubt, one of the highlights in the career of this artist who comes from a modest family in Adjud, to win the world over with the strength of her talent. At the end of Loewe's aria, Dominique Meyer, the director of the Vienna Opera, handed her a bouquet of flowers, after which the soprano joined the throng of guests. Among them there were, like always, the Austrian president, members of the Austrian parliament, but also special guests like Ban Ki-Moon, Secretary-General of the United Nations, Sweden's Foreign Minister and his wife, figures of the film industry like the Danish actress Brigitte Nielsen and Sir Roger Moore, musicians like David Garrett and Daniel Hope, tennis player Boris Becker and many others.

An event with a long tradition, intensely promoted
You can imagine that the 850m2floor had become too small for the large number of dancing pairs. An der schönen blauen Donauby Johan Strauss II was, as usual, the starting point of the ball. This high-society event that is intensely promoted and rakes in large audiences, has been, alongside Vienna New Year's Concert, Vienna Christmas Markets, Mozart Chocolate Balls, part of the city's older or newer tradition, invented and reinvented, over the last decades.
Haiganuș Preda-Schimek
Translated by Diana Mafteiand Oana Marina Siliște
MTTLC, Bucharest University