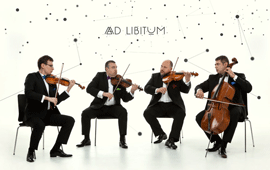 The 'Ad Libitum' Quartet - a new beginning, with Alexandru Tomescu at the principal music rack
Monday, 20 February 2012 , ora 14.20

Friday, 17
th
February, the 'Ad Libitum' Quartet concerted at the Radio Hall in its new structure, with Alxandru Tomescu at first violin, soloist performer of the Radio Music Bands. The recital was introduced by a press conference, at the 'Eugen Preda' Press Centre, at the Radio Romania Office.
Here are some of the communicated ideas:
Liliana Staicu, artistic director of the Radio Music Bands and editor-in-chief of the Radio Romania Music station:
'I am more than happy that the first performance of the 'Ad Libitum' Quartet with its new component takes place here, at the Radio Hall. I have known our friends from Ad Libitum for many years; I have closely followed their extremely rare performances in Bucharest. I wish that from now on they will be present a lot more in Bucharest's musical scene, because I think that what they have to offer is truly extraordinary.'
Alexandru Tomescu, talking about the former Ad Libitum principal violinist:
'I joined the 'Ad Libitum' Quartet after a tragic incident. The violinist Adrian Berescu died in an accident last Summer. It is important to mention that this concert, as well as the one from Iași, is dedicated to the memory of Adrian. At the same time, I do not believe that we will ever be able to perform a concert and not think of Adrian. Precisely to keep Adrian Berescu's memory alive, we thought that it would be a shame that such a great musical value built with hard work, with hundreds and thousands of hours of work for twenty three years, would disappear. The Ad Libitum Quartet is in its full glory, in full maturity and I think that from now on you will hear more often about us.'
Consignments by: Ioana Marghita
The music critic Anca Florea was also present at the recital on Friday:
'After a very long time, I could enjoy once more the Ad Libitum Quartet at the Radio Hall, known and appreciated for a quarter of a century, rewarded with prestigious prizes abroad. I attended their performance in -the new formula, with Alexandru Tomescu at the first violin, replacing the one who held this spot and who, unfortunately, last year, passed away in an accident. In this formula I appreciated that they managed to relate, to sound homogenous and fluent in solicitant scores by Haydn, Beethoven and Sibelius. Of course, I remarked the excellent technique of every one of the four instrumentalists, but, to be honest, I was stricken by the lack of a real stylistic differentiation. I hopped for a more pronounced expressivity, a more diverse coloristic pallet. In short, I would have expected a performance more fit for, I would say, a quartet of international level. Surprisingly, the encore offered in the memory of the deceased one was absolutely impressive - Humoresca by Dvorak sounding superb from every point of view, so that the audience - a very great one, for that matter, noticed that Ad Libitum could also perform wonderfully.
Let us hope that on the future tours they will have or at their next performances in Bucharest they will manage to imprint on the other scores the expressive load we remarked and applauded in that Humoresca.'

Translated by Izabella Feher
MTTLC, Bucharest University