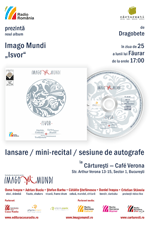 Under the sign of 'Dragobete': Isvor with Imago Mundi
Wednesday, 22 February 2012 , ora 9.59

Saturday, 25
th
February, 2012, at 5 p.m., under the sign of 'Dragobete', at the Cărturești Verona bookstore, Casa Radio Publishing House invites music and tradition lovers to discover the vision on traditional Romanian music of passionate contemporary artists, as it appears on the band
Imago Mundi
's newest compilation: the
Isvor
album. Co-produced by Pilgrim Project, the CD inaugurates the new digipack series of the "Dowery Chest" Collection, giving the listener the possibility to explore a past musical era from the artistic perspective of the 21
st
century.

A repertoire rarely undertaken today
The Isvor anthology has compositions belonging to Dimitrie Cantemir, extracted from 'The Book of the Science of Music' (work thanks to which the savant prince made music history in Turkey as founder of secular music), alongside traditional Romanian creations. It is a repertoire rarely approached by classical musicians, emphasized by the dialogue between antique instruments, specific to the Romanian cultural space from Cantemir's time (baglama, bouzuki, darbuka, bendir), and modern classical instruments (flute, oboe, violin, guitar).
The musical arrangement belongs to Cătălin Ștefănescu, lecturer at the guitar department of the National University of Music Bucharest, with a PhD. in music.
The five members of the old music band, Imago Mundi, performers with a solid artistic, musical and visual background, Oana Mariș, Adrian Buciu, Ștefan Barbu, Cătălin Ștefănescu and Daniel Ivașcu, are now renowned names of the Romanian music scene, with extensive experience in concerting and a history of over 10 years.

A complex display
The launching of the album will be followed by a recital; Imago Mundi will fill the Cărturești bookstore with the sounds of The Geamparale Suite, a Thracian Dance, Barbu Lăutarul's Song, and a peșrev by Dimitrie Cantemir, entitled Daybreak... and others, accompanied by live video projections, marking the same artistic approach which was the basis of the Isvor album: contemporary interventions on a background filled with history and tradition.
Of course, there will also be an autograph signing session.

Translated by Ioana Ristulescu
MTTLC, Bucharest University