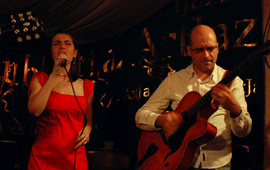 Tuesday Evening Season
Wednesday, 22 February 2012 , ora 11.34

Two simple people - this is how vocalist Luiza Zan- an artist, reputed Montreux Festival double laureate and jazz professor at the National University of Music in Bucharest and guitarist Sorin Romanescu- one of the great names in Romanian jazz of the past few years, named their recital from the Tuesday Evening Seasonat the Small Hall of the Romanian Athenaeum.
The two musicians' names on the poster drew a numerous audience, mostly made out of genre connoisseurs. Thus, the terms of a new special night offered by this Bucharest season were met.

Classical works, but with some colour spots as well
The programme proposed by the two musicians mostly included classical works from the blues area, written among others by Matt Denis, Sonny Burke, Herbie Hancock and Jimmy van Heusen, from the latin jazz - represented by Antonio Carlos Jobim and Niòa Pastori, works from the repertoire of some great artists like Frank Sinatra or Sting and two personal creations which were a splash of colour, being, through their oriental influences, rather different from the evening's repertoire.

Natural, wonderful, without stage fireworks
Known to the audience through her stage appearances that defy the show business conventions, Luiza Zan managed this time as well to draw the attention without appealing to any stage fireworks. I noticed the ease with which she changed very different styles, excelling however in the works that used the grave register. Her special way of approaching the stage act, as natural as it could be, managed to attract many applauses from the audience. The performance of guitarist Sorin Romanescu - an excellent professional, who successfully played the part of a real orchestra, was also notable.
Dan Ghineraru
Translated by Dobrin Irina
MTTLC, Bucharest University