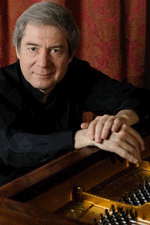 Cristian Mandeal at the desk of the National Radio Orchestra, together with Dmitri Alexeev- the soloist of the evening
Monday, 27 February 2012 , ora 8.44

The concert which took place on Friday, 24
th
February, 2012, at Radio Hall was one which looked like an event from the beginning till end. In front of a full hall, the
National Radio Orchestra,
this time conducted by Cristian Mandeal, succeeded in doing a quality performance. The soloist of the evening was the well known Russian pianist, Dmitri Alexeev.

Reference Pages from the Romantic creation
The programme proposed by the artists was a rich one; it contained reference pages from the Romantic creation. The evening started with the
Piano Concerto in A minor, Op. 16
by Edvard Grieg. This piece allowed Dmitri Alexeev to show his vocal qualities in front of the audience in Bucharest. With a sound which is the mark of a maestro - round, well defined - he succeeded in outlining the different musical settings described by the great Norwegian composer.
The second part of the programme brought to the forefront The Manfred Symphony, op. 58, by Pyotr Ilyich Tchaikovsky. If during the first performance the attention was focused on the soloist, during the second, conductor Cristian Mandeal held the audience's attention. Something worth mentioning is that he conducted the entire work by heart. From the most delicate sonorities to the strongest attacks, the orchestra quickly answered to the maestro's intention, constructing the sound edifice which Tchaikovsky had imagined.
A successful concert
The audience's answer, of course, matched the artists' performance, the applauses persisting for a long time. In other words, the concert held on Friday evening at Radio Hall was a successful one, and the different melodic pieces encountered followed us for some time.
Radu Mihalache
Translated by Elena Enache and Florina Sămulescu
MTTLC, University of Bucharest