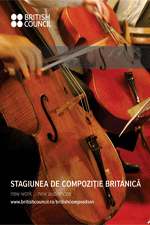 A New Concert within the British Composition Season
Monday, 27 February 2012 , ora 13.23

During the evening of 24
th
February, 2012, at the
Romanian Youth
National Arts Centre, a new concert within the
British Composition Season
was held. This time the concert was performed by the members of the
Archaeus
ensemble, conducted by Liviu Danceanu, who played for us new creations by contemporary British composers, presented with diverse instrumental combinations.

The Conflict between Sounds in British Composition
The evening began with the piece The Brook Sings Loud for violin, cello and piano by Helen Grime, which transported us to Scotland's atmosphere, through a simple melody, specific to this sound universe. It was followed by Songs from a Still World for solo clarinet by composer Philip Cashian. This piece manages to portray in an interesting way the emotions of the one who travels this described static landscape, from silence to dismay. The third piece, Carillonfor piano, clarinet, and vibraphoneby Martin Butler, perhaps best represented the idea of the concert, that of a conflict between brutal, violent sounds and delicate ones.
The piece Axeman for solo bassoon, by Anna Meredith also fits the line we have just described. It exposed the entire expressive palette of the instrument. The work Sketches from a Bagpiper's Album for clarinet and piano by Judith Weir, brought us back to the Scottish landscape. The end of the evening belonged to the pieceBach Machine for violin, clarinet and vibraphone, written by Julian Anderson.

Expert Opinions
After the concert we talked to composers Philip Cashian and Helen Grime.

Philip Cashian:
'I think that tonight's event managed to capture perfectly the contemporary British music. There is a large palette of styles, different methods to compose, different musical 'areas' so, for me - as a composer - it all sounded very rich and creative.'

Helen Grime:
'I agree with what my colleague said. There is a great cultural diversity in Great Britain at the moment, there are so many influences from different corners of the world and different types of music and I am happy that we have such creative diversity.'

Philip Cashian:
'Indeed. On one hand, there are a piece for clarinet which was somewhat inspired by an electric guitar solo and on the other hand, pieces with folklore inspiration, jazz, pop. And so you end up with a very broad horizon.'
Radu Mihalache
Translated by Florina Sămulescu
MTTLC, Bucharest University