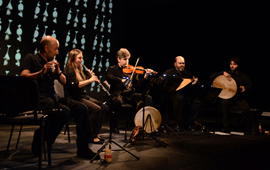 Isvor, a New Album by Imago Mundi
Monday, 27 February 2012 , ora 9.38

The newest album by Imago Mundi, entitled Isvor, boasts thirteen songs full of traditional, purely Romanian sounds. The most recent disk by the ensemble who promotes early music was released on Sunday, 25 February, 2012, in an event at Café Verona in Cărturești bookstore.
The album reflects the vitality of early Romanian sounds and at its centre are songs from The Book of the Science of Music by Dimitrie Cantemir, alongside other traditional Romanian works. The novelty of these songs stems from the twining of instruments specific to the musical scene during Cantemir's time (bağlama, bouzouki, darbuka, bendir) with classical instruments (flute, oboe, violin, guitar) but also from the newness of the arrangements, meticulously planned by Cătălin Ștefănescu, one of the members of the ensemble. Together with Oana Mariș, Adrian Bucuiu, Ștefan Barbu and Daniel Ivașcu, they delighted the audience with a mini-recital, followed by an autograph session. The album Isvor was recorded in 2011 and promoted during the same year in a big, national tour. It is being released on Casa Radio Publishing House, in collaboration with the Pilgrim Project and proposes - as envisioned by the five members of the ensemble - a return to the past from a contemporary standpoint.

For More Details...
....I talked to Cătălin Ștefănescu, the guitarist, but also with the host of the event, the representative of Casa Radio Publishing House.

Cătălin Ștefănescu:
'The record features our music, a return, in some way, to the Romanian folklore and musical tradition. This album incorporates Romanian music with an Oriental touch. About a quarter of it is dedicated to Dimitrie Cantermir, with works he wrote in The Book of the Science of Music, at the beginning of the 18th century.'

Tiberiu Comandașu
'It's an album released on Casa Radio Publishing House together with Pilgrim Project and it's aimed at the listeners who want hear early Romanian music once more - including works by Dimitrie Cantemir - in a modern interpretation, accessible to listeners nowadays.'

The album Isvor represents Imago Mundi's vision of early, traditional Romanian music, a valuable repertoire, but very rarely tackled by classical musicians. The ensemble is in a perpetual search for a pure and ancient spirit to instil life into by means of original interpretations, with their own arrangements, lead by the joy of performing and offering musical lovers a unique and original artistic act.
Janina Bădici
Translated by Diana Maftei
MTTLC, Bucharest University