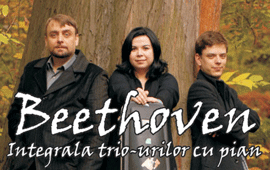 The Musica Viva Trio on the Stage of the National University of Music Bucharest
Thursday, 1 March 2012 , ora 9.43

The audience present on Wednesday, 29 February at the George Enescu Hall of the National University of Music Bucharest had the opportunity to listen to the recital entitled Fantasies and Contrasts. This is part of a much larger project by the Musica Viva trio to bring all of Beethoven's trios to Romanian stages. The host of the evening was musicologist Petruta Măniut.

Early and Middle Works
The artists, meaning Andreea Laura Butnaru on piano, Ion-Alexandru Mălaimare on the violin and Florin Mihai Mitrea on the cello played an interesting selection of works of such nature. The main theme, contrast, was apparent at all times, thus revealing the musicians' great artistic skill . The first piece of the evening was an early work of the composer, an unnumbered Trio in E-flat major. The creative period described by this piece is clearly one of assimilating Haydn and Mozart's musical expression, but between the lines you can glimpse Beethoven's later style. The second piece chosen for the recital confirms the idea of contrast, belonging to his middle work. I'm talking about Trio Opus 70, No. 1 in D major, Ghost, named as such thanks to its themes which carry the listener through different emotional territories, from profound melancholy to a cry of despair.

A Fitting Ending to the Evening
During the intermission we watched the video projection entitled Contrasts and Fantasies of the Future, a contemporary interpretation of the main theme of the recital, put together by composer Cătălin Crețu. In the second half of the programme we listened to Trio Opus 70, No. 2 in E-flat major, which, by virtue of its power and energy, represented a fitting ending to the evening. The members of the Musica Viva trio made sure that every single sound they played had the necessary emotional charge, nothing was left to chance and the final effect met those expectations.
The audience, although unfortunately too few in number, was nonetheless delighted by the performance of the artists who succeeded in creating the perfect atmosphere for a Wednesday evening.
Radu Mihalache
Translated by Diana Maftei
MTTLC, Bucharest University