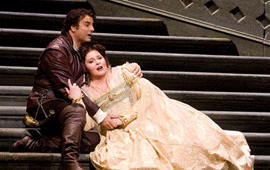 Ernani by Giuseppe Verdi, live video from the Met
Tuesday, 28 February 2012 , ora 10.10

The HD transmissions offered by the Light Cinema from the Metropolitan Opera in New York continued with Ernanion Saturday, 25 February , 2012.
For many people, the greatest interest was in the work itself, the wide accessibility of this work of Verdi's youth providing an almost completely full room. But for the most competent, the main attraction was the distribution, and especially the American soprano Angela Meade, Elvira's performer.

Angela Meade - the main attraction
Four years ago, while still a student, the soprano made her first appearance in the world of lyrics ex abrupto, even with this role and even at the Metropolitan, replacing Sondra Radvanovsky overnight. She made then sensation thank to her absolutely exceptional vocal qualities. Indeed, as we have seen this time too, Angela Meade has a brilliant and sweet voice at once, impressively full and agile - in coloratura passages - with sublime acutes in pianissimoand with a flexible phrasing, of a deep breathing.
The other protagonists simply confirmed the expectations of the connoisseurs, all of them being great artists of great international prestige, often present in distributions at the Met. Therefore, the title part was authoritatively ensured by the experienced tenor Marcello Giordani, the baritone Dmitri Hvorostovsky - a successful Verdian - who was Don Carlo, and the bassist Ferruccio Furlanetto created a very convincing De Silva. The contribution of the chorus is to be mentioned - almost permanently present in the work Ernani - and, of course, the performance of the orchestra, conducted by Marco Armiliato. Currently he is the most ... busy conductor at the Metropolitan; he has just set this record by conducting six of the seven performances of the last week.

Impressive production
As for the production, it was created by Pier Luigi Samaritani almost three decades ago. Glorious distributions came and went in it; for instance, one of the performers of the role of Ernani was Luciano Pavarotti. Impressive through the elaborate scenic reconstruction of the era and the pompous costumes, traditional and entirely conventional, this setting also gave a special show on the screen, inaccessible to the audience in the hall of the Metropolitan, a show of the decor changes. Unlike the recent broadcasts of Wagner's Tetralogy - with its sophisticated technology, almost entirely computerized - this time there was an army of people after each picture - extremely disciplined, efficient and quiet - which formed the next frame, just before your eyes, in a few minutes. Meanwhile, the mezzo-soprano Joyce Di Donato - host of the transmission, with top model appearance - gracefully interviewed the protagonists.
Ligia Ardelean
Translated by Gabriela Moateru
MTTLC, Bucharest University