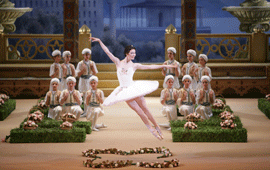 For the first time ever in Bucharest, live in HD, at the Bucharest National Opera (ONB), a ballet by the Bolshoi Theatre
Wednesday, 7 March 2012 , ora 9.25

The ballet
Le Corsaire
by the Bolshoi Theatre will be projected for the first time ever, live in HD, on Sunday, 11 March, 2012, at the Bucharest National Opera, at 17.00 o`clock. The ballet will be broadcast live in Timișoara as well, at the Concert Hall of the
Ion Vidu
National College of Arts. The tickets for the two events are available at the Bucharest National Opera, and at the
Ion Vidu
National College of Arts.
Le Corsaire was inspired by the eponymous poem written by Lord Byron in 1814. The ballet was originally created for the Paris Opera, in 1856, by Joseph Mazilier. In 1858, Jules Perrot presented his own version of the ballet, which starred Marius Petipa. When he became a choreographer, Marius Petipa coordinated all the revivals, until the beginning of the 20th century. In 2007, Alexei Ratmansky and Yuri Burlaka created the version of the ballet that is still being performed today, and which is the most sumptuous of all. The ballet tells the love story between Medora and the corsair Conrad, and all the adventures that the two have to go through so that they may be together.
The cast of the show also includes iconic figures of the Russian ballet like: Svetlana Lunkina, Ruslan Skvortsov, Andrei Merkuriev, Nina Kaptsova, Anastasia Stashkevich and Vyacheslav Lopatin.
The Bolshoi Theatre in Moscow is one of the world's most important musical stages, concerning opera and ballet. The company was founded in 1776 by Prince Pyotr Urusov and Michael Maddox, by a decree of Empress Catherine the Great. The Bolshoi Ballet is one of the most impressive ballet companies in the world, having over 200 members and 30 performances a year.
The 2011-2012 season was marked by the completion of the renovation works on the historical building of the Bolshoi Theatre, which lasted six years.

Translated by Diana Maftei and Alinda-Gabriela Ivanov
MTTLC, Bucharest University