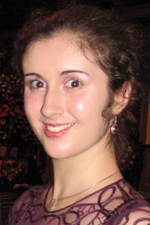 Tuesday Evening Season
Wednesday, 7 March 2012 , ora 9.28

The 6 March, 2012 edition of the
Tuesday Evening Season
brought a remarkable 19-year old pianist in front of the audience in the small Hall of the Romanian Athenaeum. Considered by many specialists to be a leader of her generation,
Sânziana Mircea
is a quite well - known artist in Bucharest, as well as the rest of the country thanks to her frequent participation in solo, but also chamber music and recitals. But her collaboration with violinist Alexandru Tomescu is a famous one by far.
Sânziana Mircea had her formal training at the George Enescu Music High school in Bucharest with pianist Olga Szel, but at present she benefits from the guidance of University Professor, PhD. Stela Drăgușin. On Tuesday evening, Sânziana Mircea proved the rich experience she has acquired so far on stage, in a variety of concert Halls in Europe and the United States of America.

An outstanding and mature interpretation
The programme of the evening started with a known piece by Johann Sebastian Bach - The First Partita in B-flat major. I took notice of the profound knowledge she had of this work that she rendered in a style which, in certain places, surpassed the rigours imposed by a pre-Classic score. This was followed by one of the most romantic creation out of Beethoven's work - Piano Sonata No. 31 in A flat major, Op. 110, in a very good and mature interpretation, full of substance and depth. Sânziana Mircea also left a good impression with her version of Prelude, Chorale and Fugue by French composer César Franck, bringing a vivid colorful palette. At the end, we returned to Bach, with two of his most famous Piano Transcriptions: the Choral Jesu bleibet meine Freude by Myra Hess and Chaconne by Busoni.
Through all of these, Sânziana Mircea put together the most consistent and complex piano recital I have listened to during the recent Tuesday Evening Season.
Dan Ghineraru
Translated by Diana Maftei and Alinda-Gabriela Ivanov
MTTLC, Bucharest University