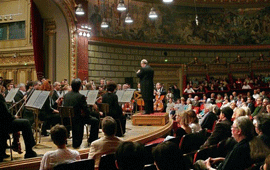 On Dvorak's Music and on Music in General
Friday, 9 March 2012 , ora 12.01

The phrase 'national schools' can hardly be considered form without content. There is something indescribable about their music, which contains the spirit of the people who created it. It is amazing how something as abstract as music, essentially nothing more than sounds that fade away as soon as they have appeared can express something as abstract as the essence of the collective soul. Listening to such music allows you to see inside the windows of your mind. Or, perhaps it is not surprising at all, but more likely a truism. That ineffable character, which cannot be conveyed with words, reveals itself through music.
Upon listening to the complete Dvorak program at the Romanian Athenaeum on Thursday, 8th March, another particular feature of music came to mind. I dare say that music is the only art which can express everything, anything; in other words take any form, while still keeping its original, pure, characteristic nature, that of music and nothing more.

Man and Performer Rolled into One
The Czech composer's Symphonic Variationswere followed by two concert instances - Silent Woods and Rondo for cello and orchestra. The maestro Marin Cazacu received his usual round of applause not only for his performance, but also for his personality, as he is a gentle, modest and most pleasant person. The evening ended with Dvorak's 9thSymphony, The New World.

The Sole Being of Music
Camil Marinescu takes his music seriously. Not grave, tragic or rigid, but serious. When listening to him conducting an orchestra, one dare not laugh even during cheerful or light moments. Onebecomes aware that those moments were created by the same composer who previously astounded the public by his strength. The reason why one dare not laugh is not because of any sense of tension, awkwardness, unease or discomfort, but for the feeling that music is no children's game, nor is it to be taken lightly. Music is something to live and live for; you cannot laugh whilst listening to music, because then it seems as if you laughed at your own life.
However, lest you should think that the evening of 8th March at the Romanian Athenaeum was wearisome, I will conclude by telling you that the maestro Marin Cazacu and the conductor Camil Marinescu, were each honoured to be given encores by the ladies in the audience - Oblivion by Astor Piazzolla, an arrangement for cellos and contrabass, and the Slavonic Dance No. 8 by none other than the unique Dvorak.
Maria Monica Bojin
Translated by Roxana-Andreea Dragu and Alinda-Gabriela Ivanov
MTTLC, Bucharest University