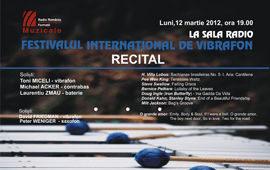 The Vibraphone International Festival at the Radio Hall - an Absolute Premiere in Romania
Wednesday, 7 March 2012 , ora 12.09

The Vibraphone International Festival, a unique event, will be held at the "Mihail Jora" Concert Hall in Bucharest from 12 to 16 March 2012.
After the success of the Bandoneon and Accordion Festival, of the International Festival "Organ evenings at the Radio Hall" (2010) and of the Festival "Antique Violins at the Radio Hall" (2011), the Musical Radio Bands are preparing to offer the public a new event in absolute premiere in Romania, in which the main character will be, this time, the vibraphone. This is a percussion instrument similar to the xylophone, in which the sounds, produced by metal strips, are extended with the help of some resonance tubes, like the marimba. The 1920s, the vibraphone is used by jazz bands.

Daily - recitals and concerts
Every day there will be soloist recitals or of some ensembles like Percussion Studio Group, Trio Grave, Hands of Passion Trio and two concerts with the participation of the Radio Chamber Orchestra and Radio National Orchestra, in which Romanian and foreign soloists will be invited: Alexandru Anastasiu, Emmanuel Sejourné, Toni Miceli, David Friedmann, Richard Szaniszlo. Along with the vibraphone, we will be able to listen to other instruments less present in concert halls, such as the marimba and the saxophone. The conductors that will be at the music stand of the Radio Orchestras are Tiberiu Soare and Gerd Schaller.
The programme of the festival will include works by Astor Piazzolla, Johann Sebastian Bach, Ney Rosauro, Ottorino Respighi, Samuel Barber, Emmanuel Sejourné, Alexandru Anastasiu etc.

The feature of the week - the Vibraphone
The opening of the Vibraphone International Festival will take place on Monday, 12 March, 2012, at 19.00, with a recital in which the soloists will be Toni Miceli - vibraphone, Michael Acker - contrabass and Laurentiu Zmau - drums (first part), David Friedman - vibraphone and Peter Weniger - saxophone (in the second part).
The festival will continue on Tuesday, March 13, at 19:00, with another recital, in which the protagonists of the first part will be Emmanuel Sejourné - vibraphone and marimba, Alexandru Anastasiu - vibraphone and marimba and Percussion Studio Group, composed of Christian Balea, Dan Teodorescu, Lucian Maxim and Ali Srouji. In the second part we will listen to the ensemble Hands of Passion Trio, consisting of Richard Szaniszlo - vibraphone, Jesyensyky Gyorgy - drums and Peter Oláh - contrabass.

Other details about the event
The complete programme of the Festival can be found on the sites http://orchestre.srr.roºi www.eventim.ro. Tickets can be purchased through Eventim at the Radio Ticket Hall, Germanos stores, Vodafone, "Carturesti" Bookstores, Humanitas and on www.eventim.ro.

Translated by Gabriela Moateru
MTTLC, Bucharest University