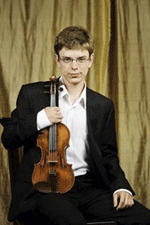 Tuesday Evening Season
Wednesday, 14 March 2012 , ora 11.29

On 13th March, 2012, the edition of the Tuesday Evening Season brought into attention of a pretty large audience in the small Hall of the Romanian Athenaeum an interesting recital, where the soloist artistry of the violin and the piano was interwoven with chamber music elements.
Alexandru Mălaimare and Ioana Isar, who are students at Bucharest National University of Music, were the musicians of this evening. The young violinist's name is well - known among the music lovers, due to his numerous recitals and appearances as a soloist of orchestras of different Romanian cities, including National Radio Orchestra, which represent his visit card. Pianist Ioana Isar has played so far as a partner of important chamber ensembles from Bucharest on different stages of our country.

Demanding repertoire - subtle playing
Young musicians began their recital with Sonata in G minor by Claude Debussy; a demanding work that allowed me to perceive, on one hand, the perfect coordination between them and on the other hand, the high artistic sonorous colours of Alexandru Mălaimare`s violin. Then he outstandingly played George Enesco`s The Fiddler, from Impressions from Childhood Suite and Eugene Ysaye`s Sonata No.6. Ioana Isar`s soloist moment consisted in two Rhapsodies op.79 by Johannes Brahms that were well technically played, but without accents that worth being mentioned. At the end of the recital Alexandru Mălaimare and Ioana Isar were reunited on stage by Antonin Dvorak`s Sonatina in G major op.100 that was played under the same auspices.
Violinist's encore -
21st Caprice
by Niccolò Paganini proved once again his unforgettable perspective of being a mature and balanced musician and having a demanding appearance on stage.
Dan Ghineraru
Translated by Alinda-Gabriela Ivanov and Elena Daniela Radu
MTTLC, Bucharest University