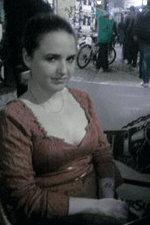 Tuesday Evening Season
Wednesday, 21 March 2012 , ora 9.23

Tuesday, 20
th
March, 2012, at the Small Hall of the Romanian Athenaeum, the
Tuesday Evening Season
continued with an episode that had the piano in the limelight.
Preludes and fugues by Bach
Octavia Dinulescu stepped on the stage with a remarkable intention; she interpreted seven of the forty eight preludes and fugues from the Well-Tempered Clavier cycle by Johann Sebastian Bach. This intention materialized in an exceptional programme, welcomed even more for taking place on the eve of the great German composer's 327th birthday celebration. Octavia Dinulescu is mostly known by music lovers for her activity in musicology. She is the author of several appreciated specialty papers and from 2010 she has a PhD. in this domain awarded by the National University of Music in Bucharest.
A somehow personal approach
Sadly, her Tuesday night's recital did not have a big audience. The recital itself had a hesitant start and this could be noticed especially in the first two creations - catalogue 849 in C major and 859 in E flat major - but one could also notice an approach that was not close enough to the complex style of this preludes and fugues cycle. Gradually, in the five creations Octavia Dinulescu managed to gain more assuredness in the interpretation, having many good moments, in which the complexity of the polyphonic composition could be received in an optimal manner. I also remarked the somehow personal approach, from the point of view of both the tempos and the polyphonic constructions.
As a conclusion, it can be said that the pianist Octavia Dinulescu managed to offer the audience another interesting evening from the many ones they could attend in this season in Bucharest.
Dan Ghineraru
Translated by Izabella Feher
MTTLC, Bucharest University