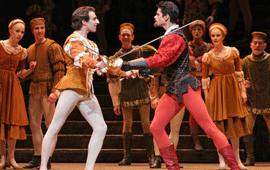 'Romeo and Juliet' en-pointe, in live HD transmission
Monday, 26 March 2012 , ora 12.43

A magical evening took place on Thursday, 22
nd
March 2012, at the National Opera from Bucharest, for the ones who were desirous to enjoy a live video transmission from the Royal Opera House Covent Garden from London. The National Opera from Bucharest transmitted
Romeo and Juliet
by Serghei Prokofiev, one of the most representative ballet productions in the history of theatre, created in 1965 by the choreographer Kenneth Mac Millan. This production - performed along the time by other ballet companies as well - is considered to be Prokofiev's calling card, his masterwork because it ideally serves his music and therefore they constitute a 20
th
century vision on the Renaissance era.
The costumes, the faces - especially the womanly ones - seem to be taken off Raphael's paintings, but the choreographic language is extremely plastic while suggesting actions and feelings; it makes them credible, creating a miraculous bridge between the artistic convention and real life - on one hand - and between the people that lived 5000 years ago and the nowadays society - on the other hand.
Federico Bonelli and Lauren Cuthbertson - a dream couple
The technical mastery and the interpreters' expressive implication surely had an enormous importance. The Italian Federico Bonelli - Romeo - and the English Lauren Cuthbertson - Juliet - were a dream couple for which no superlative is exaggerated. The extremely eloquent mobility of the body and of the mimic were unforgettable; with their help they managed to render the youthful mix between innocence and passion, ecstasy and despair, playfulness and tragedy. The entire ballet corpus was admirable as well. I take as an example the general confrontation scene from the first act, in that we can notice the incredible synchrony, the striking polyrhythm with which everyone's foils were crossing.
We found out a few things about the secrets of preparing this moment - and not only - from a short documentary screened in the first interval. We also watched another documentary before the proper representation about both the current performers and the actors from the premiere that took place 47 years ago, who were talking about the enactment and the actual work on it.
An excellent evolution
I cannot conclude without mentioning the excellent evolution of the orchestra and of the tooters, who were especially called for and "uncovered' in Prokofiev's score. At the conductor's music rack was Barry Wordsworth, the music director of the Covent Garden Royal Ballet.
Ligia Ardelean
Translated by Izabella Feher
MTTLC, Bucharest University