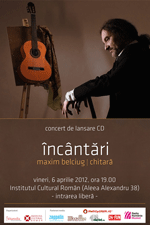 Delectations - a CD release concert. Maxim Belciug, guitar
Tuesday, 27 March 2012 , ora 13.57

On Friday, 6 April, 2012, 19:00, Maxim Belciug will join music lovers at the Romanian Cultural Institute (Aleea Alexandru, no. 38), for a concert prompted by the release of his newest CD of guitar solos.
Entitled Delectations, this CD is in fact a love story. Love of guitar, of music, of beauty, told in richly sonorous musical phrases. Carefully put together, the baroque chords of Johann Sebastian Bach, Domenico Scarlatti and Gaspar Sanz intertwine with the rhythm of tarantella and Russian waltz, while echoes of flamenco fade in the golden sands of Francisco Tárrega's fanciful memories.

Music is the highest philosophy
The guitar's clear and refined sound shapes an eclectic universe, which Maxim Belciug defines as such: 'For me, music is a metaphor for moral virtue. It should lead to all that is good, right and beautiful. In my case - if I am allowed this Socratic turn of phrase, music is the highest philosophy. Varied places, ages, feelings and ideas that 'challenge each other musically...' so as to illuminate the mind and uplift the soul.
Entrance to the concert is free.
More details at www.maximbelciug.ro

Translated by
Diana Maftei
MTTLC, Bucharest University