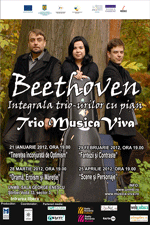 Trio Musica Viva. 'Drama, Heroism and Grandeur'
Thursday, 29 March 2012 , ora 10.33

The chamber band
Musica Viva
presented on Wednesday, 28 March, 2012, in the "George Enescu" Hall of the Bucharest National Music University, the third recital from the series dedicated to the integral of the Trios with piano by Beethoven. Pianist Andreea Butnaru, violinist Alexandru Mălaimare and cellist Florin Mitrea included in the programme
The Trio op.1 no.3 in C minor
and
The Trio op.97 in flat B major
"The Archduke". "Drama, Heroism and Grandeur" was the title chosen by the musicians for this programme, which joined a youthful work with one composed between 1810-1811 and considered by Beethoven himself one of his best creations.

Musica Viva and the elegance of the sound
The Trio op.1 no.3seems to be one of the first proofs that announce the composer's predilection to works of high dramatic intensity in C minor. Therefore, the drama, the heroism and the grandeur are already present in an incipient form; a form that the Musica Viva Trio managed to catch, through dynamic contrasts, the intensity of the musical living and the elegance of the sound. Features that could be noticed in the second part of the evening as well, when we could hear The Trio op.97 in flat B major, dedicated to the Archduke Rudolph of Austria, a representative work of the genre, in which Beethoven offers to the three instruments an equal role in the course of the musical speech.
The Musica Viva Trio is a unitary ensemble, in which the communication between the three interpreters is very good, as it resulted from the thematic takings over, the instrumental dialogues, the dynamism of the interpretation, full of sensibility, profoundness and charisma as well.

Beethoven everywhere
We could say that Beethoven was present in the recital pause as well, when the audience could watch a fragment from the Mauricio Kagel film Ludwig van, realized on the occasion of the composer's bicentenary and conceived as an imaginary visit to his house in Bonn.
The next recital from the integral of the Trios with piano by Beethoven will take place on 25 April, in the "George Enescu" Hall of the National Music University from the capital, with the title "Scenes and Characters".
Andreea Chiselev

Translated by Dobrin Irina
MTTLC, Bucharest University