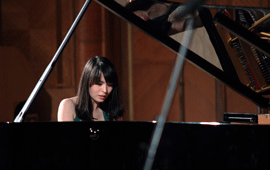 15 Years of Radio Romania Music. Extraordinary Recital Alice Sara Ott
Wednesday, 28 March 2012 , ora 10.36

Radio Romania Music celebrated on 24
th
March, fifteen years of existence and what a better way to close the series of events dedicated to this anniversary than through a really special musical evening? The large audience that came to the 'Mihail Jora' Studio could listen, for the first time in Romania, to the recital of the young and appreciated German-Japanese pianist Alice Sara Ott. The artist of the prestigious record label Deutsche Grammophon chose to perform in Bucharest a diverse programme in terms of style and at the same time a programme that emphasize her performing potential: Mozart, Beethoven, Mussorgsky.

Marvellous combination between the Asian technique qualities and the depth of the German spirit
During the first part, dedicated to the Variations KV 573 by Wolfgang Amadeus Mozart on a theme by Duport and to the Piano Sonata in C major, Op. 2, No. 3 by Ludwig van Beethoven, we admired the accuracy of the musical construction, the diverse timbre colours and the wealth of the musical dynamic, a successful combination between the technique's qualities for which the Asian pianists are famous and the depth of the German spirit, as well as a certain detachment and stringency. Also, Alice Sara Ott has an enjoyable stage presence, and captures the audience through tenderness and naturalness.
During the second part of the recital, Alice Sara Ott performed the piano suite Pictures at an Exposition by Modest Mussorgsky, a demanding work in all aspects: technique, performing, and musical imagery. The appreciation received from the audience was rewarded at the end with two encores from the pianist, the study La Campanella by Franz Liszt and the Bagatelle Für Elise by Ludwig van Beethoven.

Here are a few opinions about the Radio Romania Musical anniversary concert:
The music critic Anca Florea:
'It is a special night; I enjoyed the first part very much. Mozart captivated me after a few measures; it fascinated me. Beethoven, I would have liked a little more different in style from Mozart, more significant. Talking about the second part, of course the Pictures at an Exposition offer a lot, but they are also exacting. I believe she approached the score somehow ignoring the fact that it is programmatic, and maybe not wanting to take into account the imaging that the composer had wanted to create, related to those pictures very precisely. I believe that the audience has been thrilled and I take this opportunity to wish you "Happy Anniversary!'

Victor Opaschi, former presidential adviser:
'A delightful evening, a big surprise; I confess that before you advertised her, I had not known Alice Sara Ott, and I promise to pay attention to her from now on and I find it an excellent idea, I congratulate you, a radio station that I simply love and I congratulate you for your work.'
The theatre critic Marina Constantinescu:
'I am very happy; I did everything I could to be there for Radio Romania Music. I knew about Alice Sara Ott, I listened to her, I discussed with the people from Radio Romania Music, with some of your colleagues that I care deeply for, and I find it an extraordinary bet at an early age, an age of adolescence for the station, to listen to a young virtuoso who right now attracts the music world - firstly, I believe, through technique, and, secondly, through some sort of emotion, very well directed and controlled. It is an important evening for all of us.'
Musicologist Laura Manolache, the Director of the 'George Enescu' National Museum:
'A wonderful concert, appropriated for the anniversary of Radio Romania Music. For the past six years, as a Director of the 'George Enescu' National Museum, I found in Radio Romania Music a companion, and even more, a reliable friend, and what could one want more than to collaborate with quality people in order to realise generous projects? I wish for this radio station to have tenacity to continue this wonderful initiative and a long life. Happy Anniversary!'
András István Demeter, General Director President of the Romanian Radio Broadcasting Company:
'A wonderful concert, as simple as it is complex. I don't know how these two extremes fit, but tonight they met. I am very happy it happened, and I think there is nothing better than an anniversary like this one.'
Andreea ChiselevandAlexandra Cebuc
Translated by Camelia-Aura Barbu
MTTLC, University of Bucharest