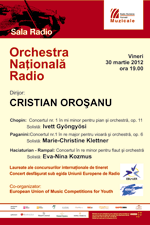 EBU series of concerts at the Radio Hall with the participation of international youth competitions prize winners
Wednesday, 28 March 2012 , ora 10.40

The National Radio Orchestra's concert, organised by the European Broadcasting Union (EBU), will be held on Friday, 30 March, 2012, at 7 P.M., with the participation of three prize winners of international youth competitions: Ivett Gyöngyösi (piano), Marie-Christine Klettner (violin) and Eva-Nina Kozmus (flute). It will be conducted by Cristian Oroºanu. The programme will include
The Piano Concerto No.1 in E minor, Op.11
by Chopin,
The Violin Concerto No.1 in D major, Op. 6
by Paganini and
Khachaturian's
Flute Concerto, arranged by Rampal. Tickets can be acquired from Eventim, The Radio Hall Ticket Agency, the Germanos and Vodafone stores, the
Cãrtureºti and Humanitas bookstores and online at
www.eventim.ro
.

Ivette Gyöngyösi - new talent
Born in 1993 in Hungary, Ivette Gyöngyösi is currently a student of the Franz Liszt Academy of Music in Budapest. She has taken part in competitions held in Hungary and Austria, winning numerous prizes. Ivette Gyöngyösi has won the New Talent Award of the Bratislava Music Festival, organised by the European Broadcasting Union. The pianist's first concert appearance took place at the Franz Liszt Academy of Music concert hall, after which she gave a recital at the famed Vienna Musikverein. She also participated in the Tiszadob International Festival and the Liszt Festival - junior category. Her musical training also owes to her participation in master classes held by renowned musicians such as: Gottlieb Wallisch, Paul Badura-Skoda, Emile Naumov, Jenö Jandó and Imre Rohmann.

Marie-Christine Klettner - first concert at the age of eleven
Marie-Christine Klettner is a student of the Mozarteum University, where she took classes with Benjamin Schmid and Igor Ozim and is also attending the Leopold Mozart Institute. After her first concert at the age of eleven, she performed in many others, along with the Mozarteum University Orchestra, the Staatskapelle Weimar, the Illinois Philharmonic Orchestra, the Franz Liszt Chamber Orchestra, the St. Johann Sinfonietta and the Camerata Academica. She has also given recitals in Holland, Italy, Germany, Switzerland, Great Britain and France, and has recorded several discs. Along the years, she has also benefited from the guidance of well-known musicians such as: Paul Kantor, Zakhar Bron, Ivry Gitlis, Joel Smirnoff, Ana Chumachenko, Igor Ozim, and others.

Winner of the Eurovision Young Musician contest....
Eva-Nina Kozmus began her musical training at the age of seven, at the Ljubljana Music and Ballet School. At present, she is a student at the National Conservatory of Music and Dance in Lyon, under the guidance of Philippe Bernold. She has also taken part in numerous master classes given by Julien Beaudiment, Gilles Cottin, Davide Formisano, Janos Bálint, Gaspar Hoyos, Claude Lefebvre, Jan Ostry, Andrea Oliva, Petri Alanko, Emmanuel Pahud, and others.
Eva-Nina Kozmus is the winner of the famed Eurovision Young Musicians competition and has participated in various other contests in Serbia, Italy and Croatia. She has performed in concerts alongside the Ljubljana Music and Ballet Conservatory Symphony and Chamber Orchestra and in other countries around Europe. She also did recordings for the Ljubljana Radio-Television, and collaborated with composers Toma¾ Habe and An¾e Rozman

Translated by Diana Maftei
MTTLC, Bucharest University