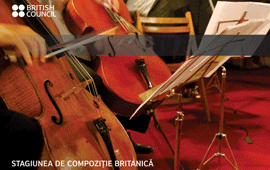 The End of the Second Edition of the British Composition Season
Friday, 30 March 2012 , ora 9.54

On Thursday evening, 29 March, 2012, at the "
Tinerimea Română"
Cultural Center there was held the last meeting of the second edition of the British Composition Season. As usual, the audience could get in contact with music by contemporary composers from the United Kingdom through the interpretation of Romanian artists. The stars of the evening were the
Archaeus
group, led by Liviu Dănceanu and the National Chamber Choir
Preludiu
, conducted by Voicu Enăchescu.

The music of our feelings
The first work presented was Los Rabanos for clarinet, violin and vibraphone, by Richard Baker, an exotic work perfomed by the Archaeus ensemble. The pieces The Human Echo of the Forest for violin and piano by Tansy Davies and Wake your Untamed Voice for bassoon and cello by Judith Weir were the most dynamic works of the evening, full of tense feelings. Also from Tansy Davies' creations we listened to the Forgotten Game for solo oboe. The latest pieces submitted by the Archaeus ensemble were Canto for violin and piano by Helen Grime and Three Landscapes for clarinet, violin, cello and piano by Philip Cashian, a composer that was present in the hall.

Double debut of the conductor
The second part of the evening was dedicated to choral works. Interestingly, this concert was the debut of young conductors Cristina Carp and Răzvan Rădos,, members of the Preludiu coral. The work Virtue by Judith Weir, a musical transposition of George Herbert's lyrics, was meant to introduce us in the atmosphere of this type of music. Ir was followed by Far from home by John Woolrich, who was present in the room, and was marked through the work Spring during Winter, conducted by Enăchescu Voicu this time.
Thus ended the second edition of the British Composition Season, an event organized by the British Council in collaboration with the National Music University in Bucharest and Radio Romania Music.
Radu Mihalache
Translated by Iulia Florescu
MTTLC, Bucharest University