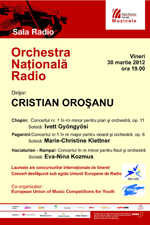 Winners of the International Competition for Youth - In Concert at Radio Hall
Monday, 2 April 2012 , ora 11.34

Mihail Jora Studio hosted on Friday, 30th March, a special concert under aegis of the European Radio Union that will broadcast the concert recording to the network of the partner institutions today. On this occasion the National Radio Orchestra had as soloists three international winners of youth competitions. I admired throughout the evening a perfect musical dialogue between the soloists and the orchestra conducted by Cristian Oroºanu, which was the first sign of maturity of these three young performers. The National Radio Orchestra rose to the expectation of varied and demanding requirements of a program where I listened to concerts by Chopin, Paganini and Khachaturian.

Pianist Yvette Gyöngyösi
The beginning belonged to pianist Yvette Gyöngyösi, last year`s winner of the prize 'New Talent' Musical Contest in Bratislava, organized by the European Radio Union. Musician will soon turn 19, and at the moment she is a student at the Academy of Music 'Franz Liszt' in Budapest. By playing the Piano Concerto no.1st in E minor by Frédéric Chopin Yvette Gyöngyösi succeeded in revealing her sensitive and musical nature, being a pianist in the making, but full of musical possibilities.

Violinist Marie-Christine Klettner
Then, I listened to violinist Marie-Christine Klettner, born in 1992 in Salzburg, who is currently student at Mozarteum University and Leopold Mozart Institute. Winner of the International Competition for Young Violinists Louis Spohr, Marie-Christine Klettner was an energetic and full of vitality presence on the stage. She chose Violin Concerto no.1st, opus 6th in D Major by Niccolo Paganini, a work that managed to raise some technical problems in her moments of virtuosity, but these issues did not overshadow her fresh interpretation.
I found out, after the concert, from violinist Marie-Christine Klettner about her experience in Romania and the collaboration with the National Radio Orchestra and conductor Cristian Oroºanu:
"It was a wonderful experience; it made me a great pleasure to be here. Romanians are very friendly and greeted us warmly. The orchestra is great, it listens very carefully and the conductor is a warm person and a very good professional. It was an extraordinary collaboration that inspired me. I am for the first time in Romania and it was a wonderful experience".

Flutist Eva-Nina Kozmus
Soloist of the second part of the evening was flutist Eva-Nina Kozmus, Slovenian by origin, who is student at the Superior National Conservatory of Music and Dance in Lyon and the winner of Eurovision Young Musicians Contest in 2010. Being only 18 years, flutist successfully approached the transcription for flute by Jean-Pierre Rampal of Aram Khachaturian `s Concerto for violin and orchestra, a work that we rarely have the opportunity to listen to our stages. Technical and interpretative skills of young flutist were successfully highlighted by the difficult score, to which Eva-Nina Kozmus added spontaneity and musical maturity, winning the admiration of the public that was present in Mihail Jora Studio.
About her experience in Bucharest, Eva-Nina Kozmus told us:
'This is the first time I am here and I really enjoy it. People are very nice and conductor helped me a lot. It is the first time when I play this concerto. The orchestra is very good, we worked very well and it was very easy for me to play altogether with these true musicians.'
Andreea Chiselev
Translated by Alinda-Gabriela Ivanov and Elena Daniela Radu
MTTLC, Bucharest University