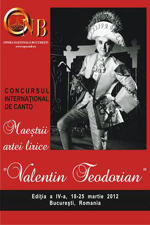 Masters of Lyrical Arts Competition - 2012
Wednesday, 28 March 2012 , ora 11.48

Held at the National Opera House in Bucharest, the 4th edition of the International singing competition 'Masters of Lyrical Art', devoted to the late tenor Valentin Teodorian, ended on 25 March. Out of the forty-three contestants, representing countries from Europe, Asia and Latin America, only eleven reached the final, where they each performed two pieces chosen by the judges. We got to listen to important voices - most of which were promising - and we noticed a higher degree of interest for the soulfulness of the performance, for the phrasing, the style, the careful choosing of repertoire. The final and the award ceremony, which followed shortly after the judges deliberated, were accompanied by the Bucharest Opera Orchestra, under the - competent and amiable towards the contestants - baton of conductor Tiberiu Soare.
The audience was moved by the decibels of the Korean tenor Jeong-Hwan Lee, but so were the judges, musicologist Grigore Constantinescu - president, directors Anda Tăbăcaru-Hogea and Plamen Kartaloff - the director of the National Opera in Sofia, tenor Ion Piso, conductor Tiberiu Soare and music critic Costin Popa. Jeong-Hwan Lee got First Prize and two main parts on the stage of the National Opera House in Bucharest. Second Prize, plus a main part at the Bucharest Opera and one at the Opera in Sofia, as well as the Award of the Melos Magazine went to another tenor, Ionuț Hotea, and the Third Prize went to soprano Irina Baianț, who was also chosen for the Music Critics' Association Award. The winners were also offered a recital disc by tenor Valentin Teodorian, as well as his book Verdi, the Immortal.
During the award ceremony we could listen again to the three winners, as well as to last year's first place winner, soprano Veronica Anușca. There was also an announcement about who the next edition will be devoted to: mezzo-soprano Zenaida Pally.
Ligia Ardelean
Translated by Diana Maftei
MTTLC, Bucharest University