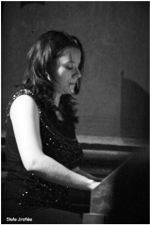 Tuesday Evening Season at the Romanian Athenaeum
Wednesday, 4 April 2012 , ora 11.57

A new piano recital was the programme for the Tuesday Evening Season at the Small Hall of the Romanian Athenaeum, on 3 April, 2012. The performer was Anca Săftulescu, currently a Ph.D student at the National University of Music Bucharest, under the guidance of university professor, Dr. Dana Borșan.

A young pianist who has already proved her talent
Anca Săftulescu is a young pianist whose talent has already been recognised internationally. She boasts an impressive list of well known musicians whose master classes she has attended, such as Ian Hobson, Lory Wallfisch and Jan Vermeulen, to name a few, but also awards such as "Maryse Cheilan" and recitals on great European and American stages.
On Tuesday evening, Anca Săftulescu presented to the audience two romantic opuses: Piano Sonata in G minor, Op. 22 by Robert Schumann and Piano Sonata No. 3 in F minor, Op. 5 by Johannes Brahms. It was a rich programme, consisting of two of the amplest and most demanding pieces of the genre belonging to German Romanticism, through which Anca Săftulescu showed herself to be as talented as she is thought to be.

A performance that matched the soloist's talent
The depth and complexity of Schumann's sonata was tackled in a mature way, succeeding in focusing attention on the multiple facets, nuances and emotions that only a very talented pianist can manage to communicate to the audience through this sonata, as Anca Săftulescu did in the first part of her recital. After that, in Brahms' sonata - a true symphony for the piano with concerto overtones - she pleasantly surprised the listeners with her easy handling of the parts that require a high degree of mastery, with the way in which she gracefully got through the brief technical blocks as well as with the wide range of nuances and bold tempos she attributed to each part. It was a high quality recital, in which pianist Anca Săftulescu proved that her budding career is worth watching.
Dan Ghineraru
Translated by Diana Maftei
MTTLC, Bucharest University