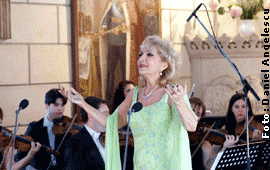 Extraordinary Concert in Honour of Soprano Nelly Miricioiu
Monday, 2 April 2012 , ora 11.59

On Saturday, 31st March, 2012, the soprano Nelly Miricioiu was celebrated through an extraordinary concert suggested by the Royal House of Romania and held in the presence of Their Highnesses the Crown Princess and Prince Radu.
At the Kings' Hall in Elisabeth Palace, the soprano, who was applauded on the scenes of the theatres Covent Garden in London or Scala in Milan, proved again her extraordinary stage presence in the repertoire that showed another important attribute that made her famous - versatility. With Nelly Miricioiu was her close friend, the American mezzo-soprano Marrianne Cornetti, an exceptional voice, recently appreciated by the Milan public at Scala, in Amneris' role, and the Royal Camerata ensemble, formed of young musicians, with Radu Chișu as their concert master.
After the concert, in which works by Verdi, Weber, Bellini, Saint-Saens, Nicolae Bretan and Tiberiu Brediceanu were performed, and after the intonation of the Royal Anthem, The Crown Princess of Romania gave to Mrs. Nelly Miricioiu, on behalf of His Majesty the King, the Royal Decoration 'Nihil Sine Deo' for making Romania renown everywhere in the world by masterfully performing a vast repertoire including both great masterpieces of all time and rare works that she brings to the public through her talent, for the proven dignity and professionalism throughout her career, and for publicly supporting the events of the Royal Family.
At the Hall were present the possessors of the Cross of the Royal House of Romania, who celebrated, like they do every year, the day of this decoration. Among the guests were also some celebrities of the cultural, academic and economic life in Romania, Europe, and the United States of America, but also members of the Diplomatic Corps accredited in Bucharest.

The evening ended with a reception held at the Art Gallery of the Elisabeth Palace, during which we congratulated the soprano:

First of all, Happy Anniversary!
Thank you.

How did you feel tonight, celebrated by the Royal House of Romania and receiving such an important decoration?
Do you think I have words to try and describe the smallest part of what I felt today? My dream came true. I cannot say that I reached my best today; I can only say that for the first time in my life I feel complete.
Monica Isăcescu
Translated by Camelia-Aura Barbu
MTTLC, University of Bucharest