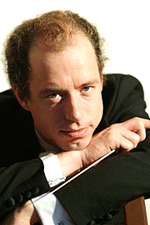 Alexandru Tomescu, playing again with the Radio Chamber Orchestra
Thursday, 5 April 2012 , ora 12.04

On 4th April Baroque music was brought to the fore by the concert of the Radio Chamber Orchestra on the stage of the Radio Concert Hall. Due to the presence at the conductor`s desk of a young musician from Berlin, Ralf Sochaczewski, but mainly having Alexandru Tomescu as a soloist of this musical evening, these were important reasons for the public to choose the mentioned concert.

Musical transposition of joy
The evening began with Unico Wilhelm von Wassenaer`s harmony, a Dutch composer who became well-known due to his Concerti Armonici that he composed in the same musical mannerism of his times, comparable to that of musicians Arcangelo Corelli, Pietro Locatelli and Antonio Vivaldi. Two of his works, Concerto no.1st in G Major and Concerto no.5th in f minor, were played by the Radio Chamber Orchestra. Conductor Ralf Sochaczewsky`s concern for the Baroque music could be noticed in his own dynamics that were chosen accordingly to the recurrent themes and also to the various tone colors, played by crescendos - mainly in the fragments with long time values. All these contributed to shape a specific atmosphere drawn from an old era where 'time was not out of joints'. Violinist Alexandru Tomescu, soloist of Concerto no.1st BWV 1041 and Concerto no. 2nd BWV 1042 by Johann Sebastian Bach, ripened this atmosphere by highlighting the moments of lyricism, by the obstinate reiterative themes, illustrating the sigh and technical agility, highly ornamented that transposes the joy into music.

Spectacular ending of the concert
The famous phrase of the law of the compensation was also true to the program of the concert - the last part was dedicated to the suite of music ballet Pulcinella by Igor Stravinsky - that ended the concert in a spectacular way by its accents of irony and humor of colored timber. A worthy conclusion: Commedia dell` Arte.
Alexandra Cebuc
Translated by Alinda-Gabriela Ivanov and Elena Daniela Radu
MTTLC, Bucharest University