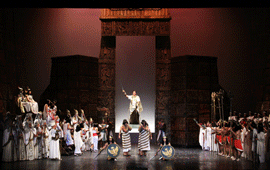 Reappearances and Debuts at the Bucharest National Opera
Monday, 2 April 2012 , ora 12.08

The Bucharest National Opera has lately hosted a sequence of performances with considerable appeal to the public, determining many music lovers to fill the theatre hall in order to attend either reappearances or debuts, which were interesting at least in principle.

Mephistopheles... hardly diabolic
The sequence of performances started with Boito's Mephistopheles, in which we had the opportunity to listen to the bass voice of Marcel Roșca, this time in the leading role. The singer arrived from Germany to reappear on the stage where he achieved success and general recognition three decades ago, tackling a part with much potential; although we knew him to be nearly seventy, we expected to see a well-constructed character and an extraordinary performance and interpretation, worthy of a once renowned soloist and good actor. Unfortunately, he merely gave a correct rendering of the notes, without force or expression, thus portraying a Mephistopheles that was hardly diabolic, but rather benevolent, whose voice sounded good in the middle register, while lower tones were completely absent and higher ones seemed slightly strained. The performance had no force or intensity and lacked the incisiveness and tension demanded by the part. It was just another encounter, nothing more...
While the Mexican tenor Jose Manuel Chu once again assured us of his beautiful singing, well conducted lyrical voice, as well as his complete lack of expression, which we have noticed on every occasion, soprano Madeleine Pascu also proved to have good, ample voice quality and to appropriate Margareta's experiences, but her singing was unfortunately as sloppy as always, with successful moments suddenly collapsing due to emission faults, shrill high tones and the incapacity to keep to the unity of the musical process. They were accompanied by Adriana Alexandru, who made for a plausible Martha/Pantalis and an honest Valentin Racoveanu as Wagner/Nereo, while conductor Tiberiu Soare coordinated the pit-stage relationship with his well-known precision, so that the overall performance sounded steady and even.

Cinderella - an overall agreeable performance
The following night it was Adrian Morar who took up the baton to conduct Rossini's Cenerentola. The performance featured mezzo-soprano Maria Jinga, always charming, with an impeccable voice and expression, Petre Burcă from Cluj-Napoca in the part of the irresistible Don Magnifico, the Italian singer Marco Di Sapia once more in the part of Alidoro, Sidonia Nica as Tisbe and Șerban Vasile as Dandini (his rich voice was however unfit for the nature of Rossini's music and the 'dance' at the end was entirely out of place). They were joined by tenor Liviu Indricău, who made his debut and whose full, metallic, lyrical voice I have remarked since his first appearance on stage. However, on this occasion he had to perform a particularly difficult and demanding part while still recovering from a (medically certified) affection of the vocal cords, thus proving that he can very bravely (even heroically, I would say) overcome such difficulties, although he failed his usually unparalleled high notes because of his illness. Nevertheless, the audience sensed his efforts to honourably see the performance through and applauded him in order to reward him, as well as to encourage him; moreover, his sincerity gives him the charisma of a 'decent young man' who has not yet learned to be a prince...
As to soprano Rodica Vică, playing Clorinda for the first time, she turned the character into a caricature, the quality of her voice and her manner of singing prompting many people to ask themselves (rhetorically, of course) why she is so intensely promoted during this season at the Bucharest National Opera, since her only accomplishment was the final high note... The chorus sounded much better than it had the previous night, the orchestra tried to keep up with the occasionally too 'hasty' tempo, which caused inherent discrepancies between it and the soloists. All in all it was an agreeable performance, which unfortunately made its grotesque aspects stand out even more (perhaps in order to gain the admiration of the students up at the balcony...).

Aida - somewhat hesitantly applauded by connoisseurs
Verdi's Aida was finally scheduled on Sunday night, the part of Amneris being played by mezzo-soprano Aura Twarowska, who returned after an inexplicable absence of several years, following the invitation of the Staatsoper in Wien, where she is currently a soloist. I listened to her once more with the same delight, as she is a true professional, who knows how to sing and play a character at the same time, a performer whose beautiful voice is constant in all registers and can produce the accents and inflections required by various situations. She has the confidence and commanding appearance of a top artist and her shrill high notes in the terrible 'Judgement scene' are probably easily remedied.
The part of Radames was played by the Italian tenor Stefano La Colla (not La Scola, as he was introduced in the prologue, for the latter tenor passed away last year...), who, although unconcerned with acting, at least has got a good, 'sound' voice, giving the Bucharest audience the happy occasion to listen to... a genuine tenor voice...
As for the rest of the cast, Mariana Colpoș once more played Aida in her already familiar fashion, Ștefan Ignat was Amonasro as always, Pompei Hărășteanu was Ramfis, as he has been for decades now, Marius Boloș made for a 'tame' King alongside Vlad Miriță and Dorina Cheșei.
The ballet was dull and so was the choreography. Iurie Florea stood in the pit, accurately conducting a production which, as a whole, deserved the applause of the greater part of the audience, although the 'connoisseurs' were somewhat reluctant to it (and for good reason).
This opera by Verdi was dedicated to mezzo-soprano Venera Rogozea on her 99th birthday, as she used to play the part of Amneris at the Bucharest National Opera in the 1950's. However, age prevented the singer from attending her anniversary night.
Anca Florea
Translated by Roxana-Andreea Dragu
MTTLC, Bucharest University