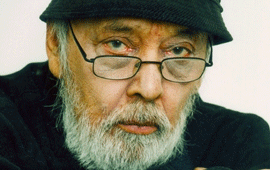 Reportage - The Jazz Awards Gala for 2011
Monday, 9 April 2012 , ora 11.24

The Jazz Awards Gala for 2011 was an event organised by the Ministry of Culture and National Heritage and the Union of Composers and Musicologists of Romania on 6th April in an intimate and festive atmosphere. It is said that 'Man consecrates the land' but this proverb can also be reversed. At least this is what has happened during the 9th edition of this series. For the first time in its history this event was held in the 'Godot Cafe-Teatru', a coffee shop with a name inspired by the writings of Samuel Beckett that combines independent theatre with an interwar period atmosphere.

New names, well known names
Anca Romeci and Alexandru Șipa presented the awards - dedicated to the memory of Johnny Răducanu, Romanian jazz player who passed away last autumn. The presentation was full of emotional words evoking the great artist. It then fallowed a series of short recitals performed by the winners of this edition, some very young and others well known artist. Some of the very young performers were: Alexandru Constantin - awarded 'The revelation of 2011', piano players Toma Dimitriu and Alexandru Pădureanu - both winners of the 'Confirmation Of The Year' category, while 'The Award for journalistic jazz' was given to Constantin Mendea and Johnny Bota. Among the performers was also saxophonist Nicolas Simion considered 'The most valuable Romanian musician in the Diaspora' and vocalist Luiza Zan chosen as the 'Musician of the Year 2011'.

The Musician of the Year 2011
What is the signification of this award for the artist?
Luiza Zan: 'It is the most important award so far, an acknowledgement of the fact that the year 2011 has been full of accomplishments and for me in particular it has been one of the most successful years in my life. Professionally I have had a lot of concerts in the country and abroad where I have performed during my first tour in the United States of America and I have had my first direct contact with the American jazz. No matter the recognition by means of an award or not, 2012 already announces itself to be a successful one.'

Successful combination…
…An edition full of awards, applauses and high quality music. The 9th edition of the Jazz Awards Gala was a confirmation of the fact that jazz music is a well defined genre in our country through the work of some well known artists but also that of young performers. It has been a fruitful edition preparing the jubilee one next year.
Alexandra Cebuc
Translated by Oana Marina Siliște
MTTLC, Bucharest University