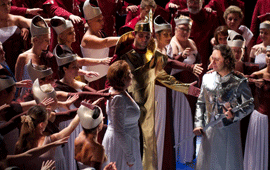 Chronicle - Again about the Bucharestian 'Lohengrin'
Monday, 9 April 2012 , ora 11.28

I went to see again on 7th April, 2012, Lohengrin by Richard Wagner, the show for whose premiere the Bucharest National Opera created one of the most artistic peaks at the last edition of the 'George Enescu'International Festival.

The same Lohengrin, another team
I won't speak again about the attractive production - commented at the right moment - and about the strong impression left on me by the three guests who performed and who crowned the distribution; authentic Wagnerian voices which had gained experienced on the most important stages in the world. This time, in an exclusively local opera team, all the protagonists confronted parts which do not fit them, from point of view of the sound caliber, of the timber colour or of the line. The consequences were more or less perceptible from the hall - some of them succeeding in concealing the inadequacies by vocal techniques and dramatic implication though the risks on their vocal health should not be neglected.

Characterized by a high level of professionalism
However, I admired the professionalism of the highest rank, the faultless melodiousness and the princely distinction with which tenor Marius Vlad Budoiu embodied Lohengrin, the clear voice and the exemplary school of singing of the young soprano Edith Borsos - soloist of the Hungarian Opera in Cluj Napoca, debutant in Elsa's role; I admired the character created by the soprano Madeleine Pascu in Ortrud (a part with a mezzo-soprano line!), and the dark timbre, the dramatic incision, the excellent assurance in singing in German of baritone Valentin Vasiliu's interpretation - Telramund, or the devotion and the efficiency of baritone Vasile Chișiu - the Herald.

The magic baton of maestro Mandeal
Maestro Stelian Olariu's choir dazzled again, in spite of some little problems of synchronization and homogeneity. Although not even the accuracy of the trumpets was faultless, the whole orchestra responded with a maximum attention and commitment to conductor Cristian Mandeal's demands, the real star of the evening. Under his baton, the whole musical discourse had fluency, coherence and conceptual clarity and emotional expressivity.
Ligia Ardelean
Translated by Elena Enache
MTTLC, University of Bucharest