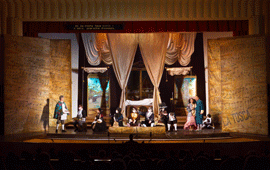 Review - Surprises and Re-encounters at the Opera House in Iasi
Wednesday, 18 April 2012 , ora 11.29

This close to the holidays, the Opera House in Iasi, reintroduced in its programme, after several years 'of silence', a special score - 'Gianni Schicchi' by Giacomo Puccini - an opera in one act, challenging and difficult not because it's abundant in arias and duets, but because its ensembles are numerous and the humorousness must result from short lines, vocal inflexions and suggestive stage attitude. That is precisely why the director needs a lot of imagination and interpreters who are truly good actors.
The enactments from the previous seasons were done by Anda Tabacaru-Hogea, and now the work follows the same traditional guidelines, with well defined characters, a somewhat alert movement, within the chamber of a 'wealthy' man from Florence and with period costumes, and - all quite 'encripted' - with elements from musical instruments (stage direction by Viorica Perju), and everything with a slightly ironic feeling, maybe even with a hint of grotesque. But within the context that suggests the action is taking place in the 13th century, the way it was conceived by the authors, it is strange, to say the least... the ultra-modern car with which Gheraldino plays...
Fluidity, logic and fine humour
Fortunately, on the night the performance was staged again, the heroes carved out of 'Divina Commedia' were played by mostly young soloists, with beautiful voices, but best of all, with very expressive gestures and malleable play on stage, making up a homogenous team, perfectly welded together. And because of this, the performance had fluidity, logic and fine humour, an eloquent proof being the appearance of the decrepit doctor - Maestro Spinelloccio - funnily dressed, but a truly unique creation, with Eduard Sveatchievici managing an excellent compositional role.
Actually, every one of those involved has become a prototype which stands out, in a satire that is loaded with irony, pushed sometimes to the edge of plain mockery; starting with Gianni Schicchi, in which Cluj born baritone Marian Pop - even though it was his debut performance - was charming, intelligent and without making excesses, with a subtlety and a structural vivaciousness that pushed him, in time, towards other roles that 'benefit' from his acting skills, with mimicry and plasticity that had both spontaneity and charm, 'betraying' the professional who trained on important stages all over the world. His qualitative voice and his manner of uttering words, with ease and effect, enchanted not only those who were listening to him for the first time, but also those who had known him since the beginning of his career, appreciating now the moderation of some exaggerations from earlier performances, hoping he would come back to a 'linear' score, (as well). His good friend, bass Petre Burca, was again his stage partner, but in portraying a more sombre Simone. The mezzo-soprano Florentina Onica was also outstanding, exuberant and... as if specially designed to play La Ciesca, provoking bursts of laughter with only a few stresses and interventions.
A young team
In the numerous cast I have also noticed the vocal quality of mezzo-soprano Laura Scripcaru (Zitta) and the generosity of bass' Octavian Dumitru (Betto) beautiful voice, and the debut of Catalin Berea (as Marco), together with Aurel Balae (Gherardo), Diana Bucur (Nella), Victor Zaharia (Ser Amantio), Stefan Dragos (Pinellino) or Ionut Todica (Guccio), but also the confidence of the small Marcu Serbanuta as Gherardino.
In the plot filled with conflict and humour with so many comical characters, the lovers create a distinct note, bringing lyricism, sentiment and youth to those around them who severely lack any of it; and soprano Ana-Maria Donose-Marcovici, who is also a charming presence on stage, with a voice to match, rigorously directed and with an adequate phrasing (even if the quality of her voice places her closer to poetic-sentimental heroines, and less to the crystalline sound of a young woman), performed together with... her husband, the well-known tenor Cosmin Marcovici, an agreeable Rinuccio (tenor who is also more accustomed to heroic-dramatic scores), and thus created a real couple.
Cristian Orosanu - a fine conductor
At the music rack, another young man - Cristian Orosanu - whom I have watched after many years, conducted with determination and precision a complex vocal-orchestral structure, achieving a diverse response from the orchestra. His maturity, the experience of conducting the Brasov Philharmonic as well as his foreign collaborations recommends him now as a fine conductor, who can manage the score without any rebellious instincts, permanently balancing the pit-stage input. And so, I was pleased to rediscover him, significantly changed since the time he conducted, for instance, at the Bucharest National Opera.
The performance was awarded with enthusiasm from the audience
Even though it was performed in the Holy Week, the hall was filled, and the audience 'responded' to the gags and enthusiastically applauded the artistic performance of the interpreters, rewarding their talent and their entire commitment to the success of a demanding performance which can be very popular if it is staged professionally and with dedication. And for all of this, they were certainly... forgiven for playing in a piece carved out of ... Dante's Inferno...
Anca Florea
Translated by Florina Sămulescu
MTTLC, Bucharest University