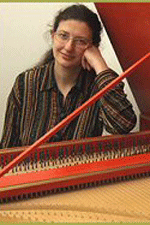 Chronicle - Tuesday Evening Season Chronicle
Wednesday, 11 April 2012 , ora 9.37

Tuesday Evening Season proposed - on 10th April, 2012, at the usual venue, the Small Hall of the Romanian Athenaeum - a special event where the Philharmonic "George Enescu", in addition to its traditional partner - Radio Romania Musical, took advantage of having 'Remember Enesco' Foundation as a co-organizer partner. The result was an old music concert that celebrated the 300th anniversary of the birth of King Frederick IInd of Prussia - a well-known historical figure, whose passion for music and special relations with the great musicians of his time have increased his fame and appreciation of posterity ever since.

Hajˇ Wienroth and Fernanda Romila - two artists dedicated to early music
Two outstanding artists, known by their devotion to music, instruments and especially by the stylistic interpretation of this musical genre, were invited to the public from Bucharest - transverse flutist Hajˇ Wienroth and the harpsichord player Romila Fernanda. German musician has been at the forefront of famous European scene for many years as a member and soloist of the genre's top orchestras and also as a promoter of early music and baroque one, by his transcriptions and even newly published works. Romila Fernanda, harpsicord player, organist and composer, is a famous musician, as well, working with many ensembles of high art specialized in this particular music.

Music lovers` special interest for early music
In front of a numerous audience, who outnumbered the small places of the Athenaeum Hall, the two musicians began their program, which consisted only of sonatas, with a sonata that was composed by Frederick IInd himself. It was a pleasant surprise for for most of the people in the audience, because only few of them knew that the King of Prussia had been the composer of 120 sonatas for transverse flute. The other sonatas that followed led us through the great creations which belong to famous musicians that were contemporary with him - Johann Joachim Quantz, Johann Adolph Scheibe and of course Bach family: Johann Sebastian, Johann Christian and Carl Philipp Emmanuel Bach. Hajˇ Wienroth and Fernanda Romila played a flawless style their instruments, which were recreated accordingly to the originals from the mid eighteenth century, with pleasure and ease well received by the public. In fact, the most important gain of the recital this week can be considered the confirmation of a high interest of music lovers for old music interpreted at a European level.
Dan Ghineraru
Translated by Alinda-Gabriela Ivanov and Bţrsan Vlad
MTTLC, Bucharest University