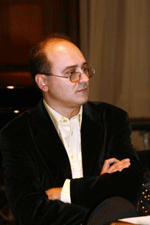 Chronicle - a Recital Dedicated to Composer Dan Dediu`s Works
Wednesday, 11 April 2012 , ora 9.39

On Tuesday evening, 10
th
April, 2012, a concert took place in the Music Hall of the Cantacuzino Palace; a recital that brought composer
Dan Dediu
`s works to the public. The protagonists were members of the
Aperto
Ensemble: violinists Ladislau Csendes and Diana Santa, violist Marian Movileanu, cellist Mircea Marian and pianist Adriana Maier.

A comprehensive overview of Dan Dediu`s musical crestion
By highlighting various aspects of composition, we could have a more complete picture of the creation of Dan Dediu. The first work which was played was Pirouettes pierrotinnes op.142 for violin, viola, cello and piano. This introductory moment highlighted the idea of the entire concert. Originally conceived as a piano sonata, the piece describes two antithetical states: a tumultuousness one, suggested by fragments of virtuosity assigned to all instruments, and a hypnotic one, toned up by moments of detachment of the piano in the context of other voices.
If the first and last works of the recital formed a frame, being the largest and the latest works played, the second and third were smaller, with fewer instrumental forms. Three pieces for two violins op.28,gathered under the title 'Sticks', bear the mark of polyphonic compositions and proposed a dialogue between the two violinists; they became in turn the main character, and then the secondary one. 'Cis-nodie' for solo violin, dedicated to Ladislau Csendes, represented a monodic game that revolved around the sound of C sharp - cis in German literal notation.

True test for instrumentalists
The concert ended with the String Quartet No. 5th op.140, 'Sphère'. The quartet is influenced by German philosopher Peter Sloterdijk`s homonym work. Consisting of five parts (Bulles, Globes, Baloons, Globes en mirrois and Écumes), this work was a real test for the instrumentalists, who promptly managed to play all the musical intentions of the author. 'Sphères' quartet ended the concert played by the Aperto Ensemble in the Music Hall of the Cantacuzino Palace, dedicated to composer Dan Dediu`s creation.
Radu Mihalache
Translated by Bîrsan Vlad and Alinda-Gabriela Ivanov
MTTLC, Bucharest University