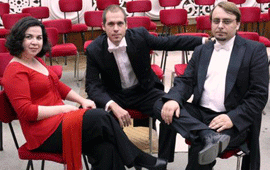 Scenes and Characters with the Musica Viva Trio
Friday, 27 April 2012 , ora 9.42

On the evening of 25
th
April 2012, the last meeting of the project
'Beethoven - Piano Trio Integral'
took place in the George Enescu hall of the National University of Music Bucharest.
Subtitled 'Scenes and Characters', the recital brought back on stage the Musica Viva band: pianist Andreea Butnaru, violinist Alexandru Mălaimare and cellist Florin Mitrea.
The works played were, as usual, varied, to better reflect the complex character of the great German composer. The first work played was Triosatz WoO39 in B flat major, a piece that meant to introduce us to the world of Beethoven's music through the richness of the musical text. The 14-cycle variations in E flat major op.44 followed, which brought to the public a variety of characters, all based on certain common features. The end of the first part was marked by Ich bin der Variations der Schneider Kakadu, a work in which different scenes are intertwined, from the solemn introduction to the almost comical variations that follows.
During the interval, in the foyer of the Enescu hall, the launch of the volume 'George Enescu National Museum, Cantacuzino Palace - History of a house' by historian Georgeta Filitti took place, Op.38 Trio in E flat major was played in the second part of the evening, a work that finds its origins in the Septet op.20. I would say that this was the highlight of the recital, being the most demanding of the works selected. Considerably greater than other trios, the author manages to describe the various and interesting scenes and characters, from the initial Adagio to the Presto at the end.
The work concluded the last concert of the Musica Viva trio at the National University of Music Bucharest, in the project 'Beethoven - Piano Trio Integral'. Through an honest interpretation, the musicians were able to shape the image of a successful Wednesday evening for everyone in the room.
Radu Mihalache
Translated by Vlad Bîrsan and Florina Sămulescu
MTTLC, Bucharest University